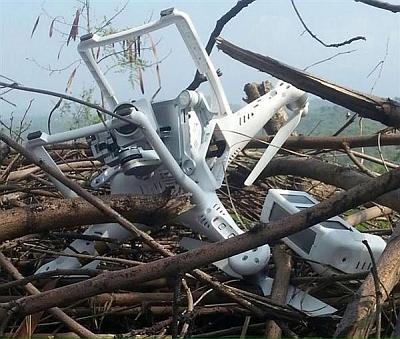 In an embarrassing disclosure for Pakistan, Chinese official media reported that the "spy" drone Pakistani army shot down along the Line of Control, claiming it belonged to Indian security forces, was made in China.
The drone was "recognised in Beijing as the Chinese made DJI phantom 3," the ruling Communist Party of China-run People's Daily said in a report on its website.
Quoting Shanghai-based Observer website, the report said that the Phantom 3 advanced drone represents the most intelligent, most powerful, and most accessible drone to date. Observer says the drone sells for $1,200 each.
DJI is a Chinese technology company founded in 2006 by Frank Wang and headquartered in Shenzhen, Guangdong. The firm manufactures commercial and recreational unmanned aerial vehicles for aerial photography and videography, it said.
The People's Daily report confirming the Chinese identity of the drone may put Pakistan military in a spot considering the close and strategic ties between Islamabad and Beijing.
The Indian Army and the Indian Air Force had already denied the allegations.
Questioning the Pakistani allegations, Foreign Secretary S Jaishankar had said the "photograph of the drone in question indicates that it's not of Indian design, nor of any UAV (unmanned aerial vehicle) category held in the inventory of the Indian armed forces. "It appears to be of Chinese design, and is commercially available off-the-shelf."
India's rebuttal came as tension escalated along the LoC, following firing and mortar shelling by Pakistani forces. Indian forces have responded to the Pakistani action.

Image: The Pakistani Army alleged that the 'spy' drone belonged to India. Photograph: ISPR