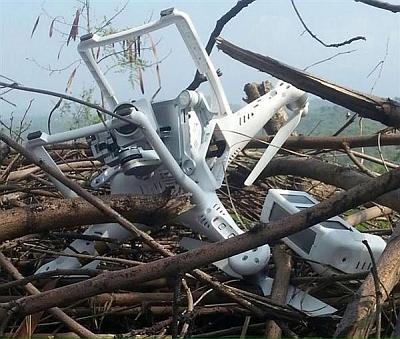 The Pakistani Army claims to have shot down an India spy drone. Photograph: ISPR

Barely a week after Prime Ministers of India and Pakistan broke the deadlock and decided to re-engage, the two countries were back to a blame game over ceasefire violations with both sides lodging protest with each other.
While India lodged protest with Pakistan both in New Delhi and in Islamabad, the Pakistan foreign office summoned Indian high commissioner and lodged strong protest over "air space violation" by an alleged Indian "spy" drone near the Line of Control and "ceasefire violation".
"Our high commissioner in Islamabad raised the issue with the Pakistan foreign office and Pakistan's high commissioner in Delhi was also conveyed India's concerns regarding ceasefire violation in which one woman was killed and some people injured," Indian government sources said.
Pakistan Rangers violated the ceasefire twice on Wednesday, indulging in firing and mortar shelling in the Akhnoor sector. They targeted civilian areas with small-arms fire and shelling at Bhalwal Bharth, Malabela and Siderwan.
Earlier in the day, Indian High Commissioner in Islamabad TCA Raghavan was called to the foreign office by Foreign Secretary Aizaz Ahmad Chaudhry to lodge the protest over airspace violation at Banchirian Sector near the Line of Control on Wednesday, a Pakistani foreign office statement said.
According to the statement, an Indian spy drone entered Pakistan's air space in violation of the International Law, Pakistan's territorial integrity and the two Agreements of 1991 on Air Space Violation and Standard Operation Procedures of Advance Notice for Military Exercises, Military Manoeuvres and Troops Movement.
The Pakistan army claimed that the Indian drone was being used for aerial photography near the LoC in Bhimber area of Pakistan occupied Kashmir and was "brought down for violation of Pakistan's territorial integrity".
The Indian Army as well as the Indian Air Force, however, denied that any of their drones has been shot down or crashed. The statement said protest was also lodged over "unprovoked ceasefire violation" by the Border Security Force at Phuklian-Akhnor sector on Wednesday, which continued until sunset and took place Thursday morning at the LoC and International Boundary, resulting in the death of one person and injury to three others.
The current row comes just a week after Prime Minister Narendra Modi and his Pakistan counterpart Nawaz Sharif met in Ufa on the sidelines of Shanghai Cooperation Organisation Summit and agreed on a number of steps to re-engage including early meetings of BSF director general and his counterpart from Pakistan Rangers followed by that of DGMOs and a dialogue between the national security advisers of the two countries.