As its backyard remains embroiled in tension, Gurugram is exercising caution.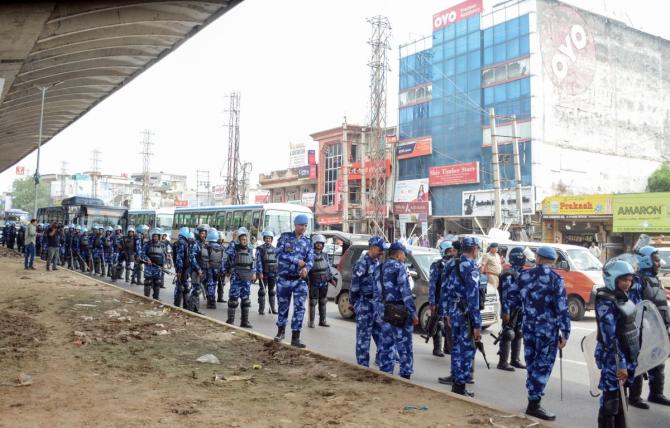 Gitanjali Qureshi (name changed), who lives in Sushant Lok in Gurugram, stepped out on Tuesday night to refuel her car. While the area was peaceful, Qureshi says the quiet reminded her of the Covid-induced lockdown.
"The situation instantly reminded me of the Covid days when the silence was broken only by the sound of a siren somewhere," said Qureshi.
Tensions began flaring on July 31, after six people were killed in clashes that broke out during a religious procession in Nuh, Haryana.
Following the incident, Section 144 of the CrPC was imposed in Faridabad, Palwal, and Gurugram. On Tuesday, educational facilities in the three areas were also asked to close.
As its backyard remains embroiled in tension, Gurugram is exercising caution. Home to offices of more than 30,000 major information technology and finance firms and startups, Gurugram is the tech and finance hub of North India.
To ensure the safety of their employees, companies have mandated work-from-home facilities for employees in light of the situation.
An analyst at one of the Big Four consulting firms said the company had provided them with the option of working from home.
'While offices in Gurugram remain open, your safety remains our priority. Please use your discretion to use flexible work options and inform your reporting manager' stated an email to employees.
A leading IT firm, whose office is situated in DLF CyberHub, has also asked employees to work from home this entire week until the situation is brought under control. Arushi Mathur, manager of content at a media company situated in CyberHub, said that they too were 'strongly advised' to work from home on Wednesday.
Bhavya Aggarwal (name changed), a psychologist, was looking to start working at a new company on August 1. However, she was informed of a virtual onboarding a night before her joining. "I have also been asked to work from home this entire week," she said.
Delivery platforms functioning in the area too have taken cognisance of the situation.
"We are following and will continue to follow government-issued guidelines. Additionally, for the well-being of our delivery partners, we have an SOS feature on their app, which can be leveraged for emergency support (including ambulance support)," said a spokesperson for Zomato.
With a significant contribution to Haryana's gross domestic product, the Millennium City is also in a constant state of being built. However, the Nuh violence has impacted all sectors of the city.
A private contractor based in the area said that work has been significantly affected.
"We employ a lot of Muslim construction workers who have refrained from coming to work these past two days. While other workers are still turning up, it will depend on how the law and order situation is handled in the days to come," he said.
Qureshi, meanwhile, has postponed her father-in-law's angiography, which was supposed to be held on Thursday.
"We are avoiding stepping out and have also asked our domestic help to not take unnecessary risks to come to work," she said.
With inputs from Aryaman Gupta