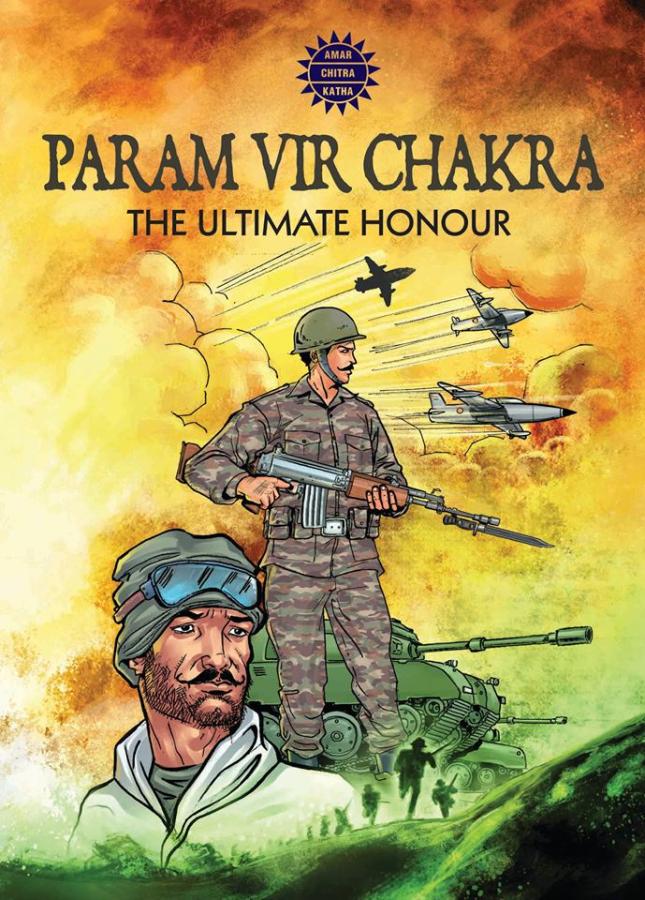 As the country paid tributes to the 1965 war heroes on Friday, a special comic book chronicling the life, valour and sacrifice of 21 awardees of the Param Vir Chakra, the nation's highest military decoration, was released.
Lt Gen Rakesh Sharma, Adjutant General of Indian Army, released a new series of Amar Chitra Katha and Aan Comics on Friday.
Amar Chitra Katha, India's favorite storyteller, is presenting a book on inspirational stories of 21 Param Vir Chakra awardees, as a tribute to the recipients of the highest gallantry award in India.
The new 248-page comic narrates inspirational stories of 21 of India's brave sons who have been awarded India's highest gallantry award.
The all-colour, beautifully illustrated comic tells the story of each hero's life from childhood to the battle in which they proved themselves victors over incredible odds.
Four Aan Comics were also released on Friday based on the heroics of four war heroes who fought in 1965 Indo-Pak war and were awarded Maha Vir Chakra.
Also read: Comic book to immortalise India's bravest men
They were Maj Asaram Tyagi, Maj Bhaskar Roy, Sub Ajit Singh and Sub Tika Bahadur Thapa.
From the numerous wars on India's borders to intervention in military crisis abroad, the soldiers of the Indian Armed Forces have displayed their bravery in the harshest and most alien of conditions.
They have battled fearlessly with only one objective in their minds – to fight for their objective and not back down.
Param Vir Chakra is India's highest military honour, awarded to those soldiers who display the greatest degree of valour and self-sacrifice on the battlefield.
Maha Vir Chakra is the second highest gallantry award in India, given to those soldiers who display a very high level of valour and self-sacrifice in the face of the enemy.
The sensitively portrayed stories in the comics take the readers into the heart of the battles they fought and gives an insight into the lives and minds of some of the most courageous men our country has ever known.