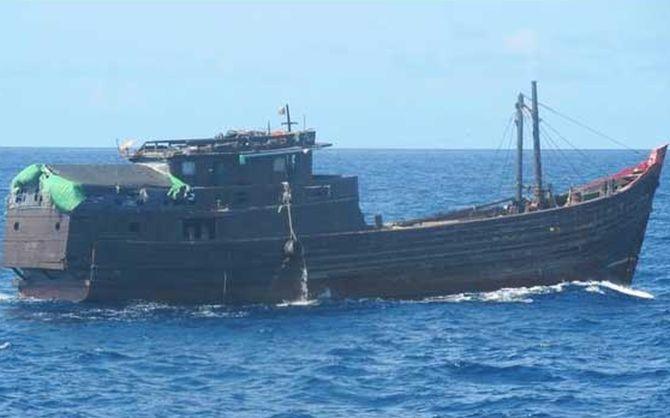 The Indian Coast Guard apprehended a boat from Myanmar moving around Andamans late on Monday night. The boat was seized after two hours of chase by ICG ships.
Officials said that Coast Guard ships Rajkamal and Bhikaji Cama were on a routine patrol of Northern Group of Islands at 11 pm on July 17, when they sighted the boat.
The security personnel tried to establish communication with the boat, however there was no response, following which a chase occurred and the Coast Guard nabbed them after a two-hour chase.
The officials said that the wooden boat did not carry a flag of any country nor did it have any name or registration marking on its hull.
The crew of the boat were also seen throwing some items overboard into the sea, causing more suspicion. Thereafter, Coast Guard ships fired warning shots across the bow of the boat to forcefully stop her.
After stopping the boat, the personnel found that all 11 crew members on board the boat were Myanmarese and none of them were holding valid passports.
The vessel was carrying large quantity of fuel and water and master/crew could not give any reason for their presence in Indian waters.