About two-and-a-half hours into the Grammy Awards, the show, which was mostly politics-free changed in a big way, as several music stars and Hillary Clinton joined in a pre-recorded skit that mocked United States President Trump.
WATCH THE VIDEO HERE:
The former US presidential candidate, along with Cher, Snoop Dogg, Cardi B, John Legend and DJ Khaled were among those who read excerpts from Michael Wolff's Fire and Fury: Inside the Trump White House, the hit book about Trump's first year in the White House.
Grammys host James Corden introduced the skit by pointing out that many high-profile political figures have won the Best Spoken Word Album award over the years:
"Bill Clinton has won a Grammy, Barack Obama has won a Grammy, Hillary Clinton, Jimmy Carter, Al Gore, they all have Grammys. We know that our current president does love winning awards. And the good news for him is he may just be the subject of next year's winner. The question I've got is -- who will be the narrator?" he asked.
Clinton's face was covered by the book when she first appeared on screen in the pre-taped sketch, but the crowd cheered when she lowered the book to reveal her face.
Clinton read the famous line about Trump's love for fast food: "He had a longtime fear of being poisoned. One reason why he liked to eat at McDonalds. No one knew he was coming and the food was safely pre-made."
The Grammys producers reached out to Clinton's camp a couple of weeks ago. They toyed with a couple of different passages from the book before settling on the except about Trump's McDonald's habit, according to a person who was involved with the taping, which took place last week in New York City.
The sketch has already drawn the ire of at least one prominent White House figure. US Ambassador to the United Nations Nikki Haley fired off a tweet after the bit aired.
"I have always loved the Grammys but to have artists read the Fire and Fury book killed it," Haley tweeted. "Don't ruin great music with trash. Some of us love music without the politics thrown in it."
Donald Trump Jr wasn't too happy too and used the opportunity to take a shot at Clinton's election loss.
"Getting to read a #fakenews book excerpt at the Grammys seems like a great consolation prize for losing the presidency," he wrote.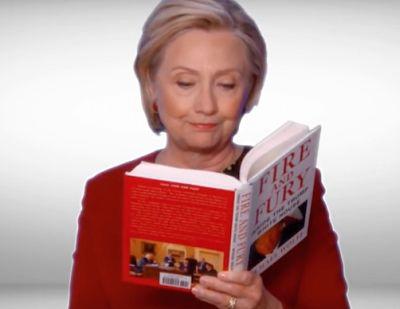 Video courtesy: Late Late Show with James Corden/Twitter