Piqued by several countries, including India, clamping curbs on Chinese travellers amid the massive surge of COVID in the country, China on Tuesday said the restrictions are discriminatory and warned of reciprocal countermeasures.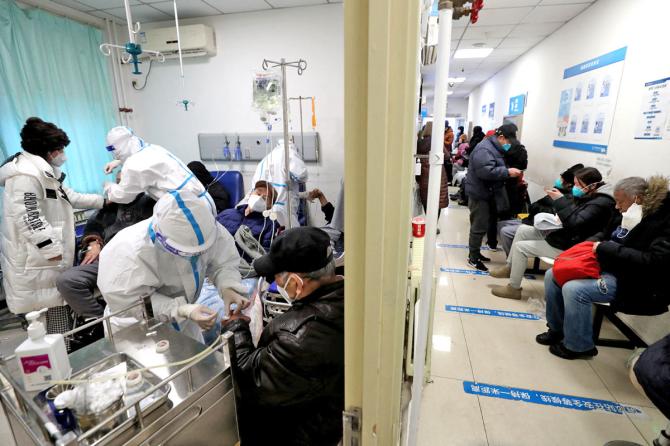 The US, Australia, Canada, India, Israel, Malaysia, Morocco, Qatar, South Korea, Taiwan, Japan and several EU countries have asked travellers from China to take a COVID-19 test prior to boarding their flights, while Morocco, which attracts a large number of Chinese tourists, even banned Chinese travellers from entering the country.
Asked at a media briefing in Beijing about the restrictions on Chinese travellers, foreign ministry spokesperson Mao Ning went on the offensive saying "we do not believe the entry restriction measures some countries have taken against China are science-based".
"Some of these measures are disproportionate and simply unacceptable. We firmly reject using COVID measures for political purposes and will take corresponding measures in response to varying situations via the principle of reciprocity," she said, without elaborating.
"Health experts from many countries have said that the main variant now spreading in China has previously been found elsewhere already, and that a new variant can emerge anywhere on the planet, which means entry restrictions targeting China are unnecessary," she said.
"China always believes that for all countries, COVID response measures need to be science-based and proportionate. They should not be used for political manipulation, there should not be discriminatory measures against certain countries, and measures should not affect normal travel and people-to-people exchange and cooperation," she said.
Starting from January 8, China will practically abandon its three-year-old stringent zero-COVID policy and its international isolation by fully opening its airports and ports for travel and trade, amidst the current massive coronavirus outbreak in the country.
The development comes at a time when China is grappling with a sudden spurt in infections fuelled by the Omicron variants after the Xi Jinping regime relaxed its stringent zero-COVID policy following a wave of anti-government protests.
While the announcement of scrapping all quarantine rules was widely welcomed at home, the timing of the opening also fuelled concerns abroad as it comes ahead of the country's annual Spring Festival on January 22 during which millions of Chinese will travel to destinations all over the world.
It was the spring festival travels by Chinese in 2020 specially from Wuhan where the coronavirus broke out that was largely blamed for its massive spread in the world, causing death and devastation unseen in the century.
The spring festival holiday will last over a week and the travel-starved Chinese are already gearing up to travel in big numbers abroad considering that they don't have to quarantine on return.
Previously, passengers coming from abroad had to mandatorily stay in over two weeks of quarantine in government accommodations, which was gradually reduced to five days with three days of home observation.
Meanwhile, state-run Global Times reported that at least 30 known Omicron sub-variants have been detected in Shanghai in recent days.
These samples randomly collected from COVID-19 patients in Shanghai between November 23 and December 22 in 2022 showed that apart from the BA.5.2 variant spreading in the southern China and the BF.7 variant spreading in the northern region, Omicron subvariants BQ.1 and XBB widely spread in some overseas countries have also been found in Shanghai.
Several cities including Beijing suffered a massive wave of Omicron last month during which millions were infected. While Omicron was regarded as less harmful compared to Delta, official reports here acknowledged overcrowding of hospitals as well as mortuaries.
President Xi Jinping on Saturday acknowledged that the current wave of COVID-19 sweeping across the country has "entered a new phase" and "tough challenges remain".
"We have now entered a new phase of COVID-19 response where tough challenges remain," Xi said in his New Year address to the nation, adding that it has "not been an easy journey" as the country has to face "unprecedented difficulties and challenges".
After repeated appeals from the World Health Organisation, China last week permitted its health officials to interact with experts from the UN health agency.
After the meeting, WHO said it "again asked for regular sharing of specific and real-time data on the epidemiological situation — including more genetic sequencing data, data on disease impact including hospitalisations, intensive care unit admissions and deaths -- and data on vaccinations delivered and vaccination status, especially in vulnerable people and those over 60 years old".
China has not been releasing any data on the virus nor the deaths taking place in the country amid video reports of mortuaries filled with bodies, especially that of unvaccinated old people.