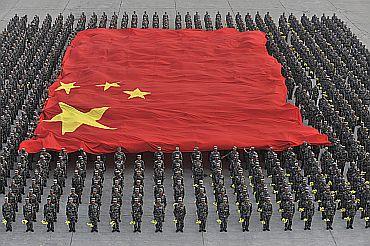 China on Monday said it will conduct a joint live-ammunition exercise in the country's southwestern Yunnan Province bordering Myanmar, the same area where a Myanmar warplane killed five Chinese citizens while pursing rebels.
The Chinese People's Liberation Army will start a live-ammunition drill tomorrow close to the border with Myanmar, military sources said.
The joint drill, which will involve troops from the PLA army and air force, is scheduled in accordance with training plans, said Zhao Picong, spokesperson for the PLA Chengdu Military Area Command.
No aircraft will be allowed to enter the airspace of the drill without permission and vehicles entering the drill areas in Gengma and Zhenkang counties will be subject to traffic controls, said a PLA statement.
Locals will not be allowed to enter the drill areas without a permit, it added.
The PLA said the Chinese authorities had informed Myanmar of the drill and an end date will be announced later, state-run Xinhua news agency reported.
Myanmar apologised to China in April after its warplane bombed the Chinese border areas, killing five Chinese citizens and injuring several others.
"On behalf of the Myanmar government and military, I officially apologise to China and express my deep sympathy to the families of the victims and the injured," Myanmar Foreign Minister U Wunna Maung Lwin who visited Beijing in April had said after his talks with Chinese officials and offered to pay compensation.
A joint investigation into the bombing incident found that Myanmar warplane bombing caused the death of the Chinese on the border. Earlier, Myanmar had denied its fighter planes ere involved in the bombing.
The Myanmar planes were conducting operations against Kokoang rebels.
The main rebel force in Kokang is the Myanmar National Democratic Alliance Army comprised of ethnic Chinese and once formed part of Communist Party forces in the region.
The MDAA is led by ethnic Chinese commander Peng Jiasheng who has reached a peace accord with the Myanmar government which lasted until 2009. He again resurfaced recently, prompting Myanmar to seek Chinese assistance to put it down.
The conflict also resulted in several thousand refugees to take shelter in China.