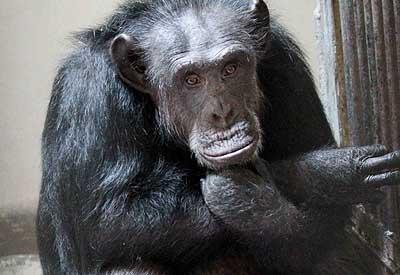 Suzi, a 21-year-old chimpanzee at the Nehru Zoological Park in Hyderabad, triggered off panic among zoo workers and onlookers alike when she bolted out of her enclosure on Wednesday.
The animal injured three workers of the zoo, who had to be treated at a local hospital.

According to zoo officials, the chimpanzee used her long hands to open the latch and bolt of her enclosure from inside. She walked out of the enclosure while an employee of the zoo was getting ready to release the animal in to the adjoining moat.

When the employee saw the animal walking out of the enclosure, he raised the alarm.
The chimpanzee calmly moved towards the food court, where she attacked two employees and one sweeper.

As people ran helter-skelter in panic, Suzi walked to a barricaded lawn and sat in a corner. The zoo staffers, with the help of a veterinarian, sedated the animal and brought it back to the enclosure.

Suzi has now fully recovered and is alert and healthy, said zoo officials

Earlier in April, a rhinoceros ran out of its moat in the Indira Gandhi Zoological Park at Visakhapatanam, creating panic among the onlookers. Some people were injured in the melee while the animal entered another enclosure and made itself comfortable in a water body.
Later, it was sedated and moved to another secure moat.
Photograph: Snapsindia