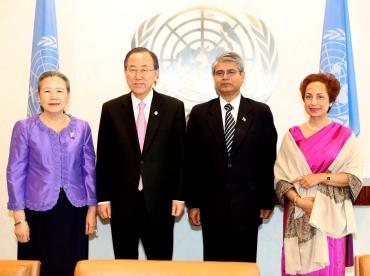 Ambassador Asoke Kumar Mukerji, the new permanent representative of India to the United Nations, on Tuesday presented his credentials to Secretary-General Ban Ki Moon at the United Nations Headquarters in New York.
The UN chief welcomed Mujherji's appointment and lauded India's important role at the United Nations as a long trusted partner of the multilateral system.
Mukerji takes over from Ambassador Hardeep Singh Puri, who retired in February.
He reiterated India's strong commitment to the UN and assured Ki Moon of his fullest support in helping the world body achieve the five 'generational' opportunities the secretary general had set out at the commencement of his second term.
In his very first address after presenting his credentials, Mukerji said during the ninth round of intergovernmental negotiations on UN Security Council reforms, that reform is more compelling than ever before.
"It appears to be just a matter of time when the body may either have to willingly embrace change or be made to accept change as a fait accompli," he said.
Mukerji said that reform of institutions of global governance, including the UN Security Council, and ensuring that they reflect contemporary reality, has been a matter of foremost importance to India.
Saying the world is faced with a 'truly bizarre situation', he said that while nearly 80 percent of the work of the Security Council is focused on Africa, the Council has never had even one permanent member from any of the 53 states of the African continent.
Quoting Victor Hugo, he said, "You can resist an invading army, but you cannot resist an idea whose time has come," suggesting that reforms of the council will take place eventually.
Prior to his appointment in New York, Mukerji has served as the special secretary (political) in the ministry of external affairs, where he looked after India's strategic and security policy consultations in its immediate and extended neighbourhood.
He joined the Indian Foreign Service in 1978.
Image: UN Secretary General Ban Ki Moon and Ambassador Asoke Kumar Mukerji with their wives | Photograph: Snapsindia