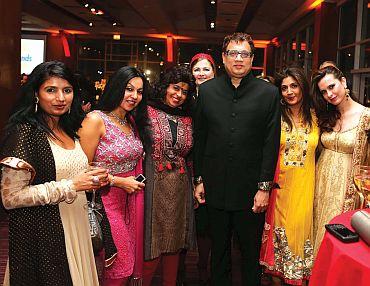 Children's Hope India Inc hosted its 20th annual gala, titled The Black and White Ball, at a decorated Pier 60 in New York on October 21.


CHI, a non-profit organization seeking to help poor children in India, was started 20 years ago at a kitchen table by five professional women out of which three -- Dina Pahlajani, who thought up this idea, Lavina Melwani and Radha Vanjani -- are still active.
The highlight of the evening was a silent auction, the items ranging from a painting by West Bengal Chief Minister Mamata Banerjee, VIP Daily Show with John Stewart tickets, to swimming lessons.
Emcee Tinku Jain, who hosts a television programme called Namaste America, and her husband Ajit Jain, who runs Berkshire Hathaway's re-insurance business, sponsored the Lotus Award presented to Dr Swati Piramal, who heads the Piramal Foundation and is also a Padma Shri recepient.


After opening remarks by CHI President Kavita Lund, Prabhu Dayal, India's consul general in New York, opened the evening for the awardees.

A video of how the collected funds have been used was screened. It included the effect CHI has had on 184 villages housing over 50,000 people near Karjat, Maharashtra, through its mobile medical unit.

In this, CHI has partnered with the Light of Light Trust.


Dr Chitranjan S Ranawat, the other recipient of The Lotus Award sponsored by Poonam and A J Khubani (chief executive officer, Telebrands of Fairfield, New Jersey), works to improve orthopedic joint replacement surgery for the poor in India.


Dr Panchapakesa Jayaraman, also a Padma Shri winner, won the Making a Difference Award.

In 1980, he and his wife established the US branch of Bharatiya Vidya Bhavan.


A special mention was made of Rattan and Gul Samtani, staunch supporters of CHI who are members of its advisory board.


Meera Gandhi, who heads The Giving Back Foundation, a CHI partner, spoke about its grant to CHI and join plans to combine efforts to help women and children.


Secretary of State Hillary Clinton lauded the CHI in her message: 'We look forward to joining organizations like Children's Hope India as you continue your efforts to ensure every child has the opportunity to live a healthy and fulfilling life.'


New York Governor Andrew Cuomo said, 'Over the last two decades, this organization has supported a worthy mission and I applaud the members of Children's Hope India for their commitment to youth.'


New York Mayor Michael Bloomberg also sent a statement: 'New Yorkers are known for their charitable spirit and dedication to giving back to their communities, and together with organizations like Children's Hope India, we are working to make a difference in the lives of those who need it most.'


Image: Derek O'Brien (centre), quiz whiz, member of the Indian Parliament from Bengal and key Trinamool Congress party strategist, at the event
Photograph: SnapsIndia