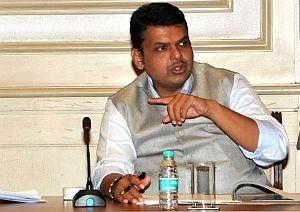 Maharashtra Chief Minister Devendra Fadnavis on Tuesday said that underworld don Chhota Rajan, who was nabbed at Bali airport on his arrival from Australia last month, will be brought to Mumbai.
"Chhota Rajan will be brought to Mumbai," he said here but did not give further details.
He said that all security arrangements are in place for Rajan to be brought to the metropolis. The CM also tweeted that Mumbai Police Commissioner Ahmed Javed will brief the media soon on the issue.
Rajan, who was arrested in Bali on his arrival from Australia on October 25, is expected to be produced soon before an Indonesian court where the police there will submit details of the cases for which he is wanted in India.
He is likely to be deported to India soon. "The entire process is likely to be completed in next two-three days," an Indian official had said on Monday.
"The government can keep me anywhere -- Delhi or Mumbai. But there should be no injustice done to me. All cases against me are false," Rajan, who is wanted in over 75 heinous crimes ranging from murder, extortion to smuggling and drug trafficking, told reporters in Bali when asked whether he was afraid of returning to Mumbai.
The Indian team, comprising officers from the Central Bureau of Investigation, Mumbai and Delhi police, arrived in Mumbai on Sunday. The team is carrying a detailed dossier on Rajan and his involvement in various crimes in India.
The team for the first time questioned him on Monday in the presence of Indonesian police at the detention centre where he has been lodged for the last 10 days.