An anti-Citizenship Amendment Act protest by Muslims turned violent when a group of protesters clashed with police in Chennai, leaving four personnel injured.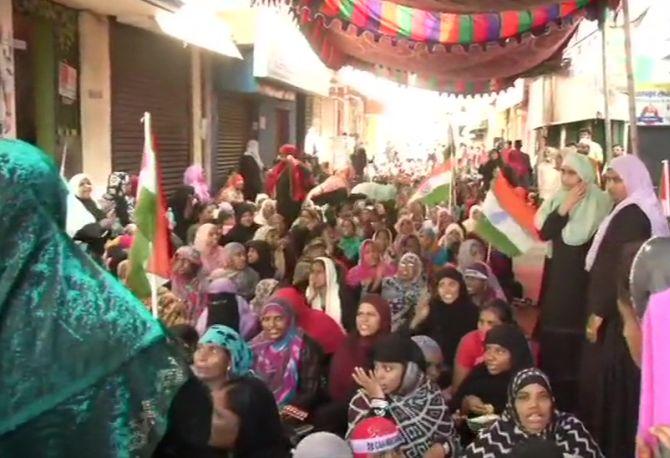 The incident on Friday led to sporadic protests across Tamil Nadu, including at Washermanpet in the city, where the violence erupted, but protesters subsequently called off the agitation, following talks with City Police Commissioner A K Viswanathan.
Four police personnel -- a woman joint commissioner, two women constables and a sub-inspector -- were injured in stone-pelting, the police said, even as reports emerged that some protesters were also hurt.
Joint Commissioner P Vijayakumari sustained injuries on her head, the police said, adding that those wounded were admitted to a hospital.
Earlier, some agitators were reportedly removed from the protest site forcibly, leading to a commotion between them and the police.
The protesters accused the police of resorting to a lathi-charge. Some of the protesters were detained.
Subsequently, more people gathered there demanding their release. As a result, security was beefed up in the area.
Viswanathan held discussions with community elders and representatives of Muslim organisations, following which all those detained were released, the police said.
"An amicable decision was arrived at in the meeting with Muslim organisations and they have announced that the agitation will be withdrawn," a police officer said, adding that normalcy had returned to the area.
Meanwhile, parties led by the Dravida Munnetra Kazhagam in Tamil Nadu on Saturday lashed out at the police for alleged use of force on protesters and sought action against personnel involved in it.
With the government coming under opposition attack over the violence, the ruling All India Anna Dravida Munnetra Kazhagam reaffirmed its commitment to the Muslim community and said 'Goebbels like propaganda' against it would not work.
The Chennai police appealed to the public to not to share any 'provocative' messages on social media in this connection, even as anti-CAA protests by members of the Muslim community continued in different parts of the state.
Tamil Nadu Revenue Minister R B Udayakumar said the 'Amma government' had always accorded high priority for the welfare of Muslims and saw to it that they were not 'even minutely affected' in any way.
Speaking to reporters in Madurai, he said Chief Minister K Palaniswami and his deputy O Panneerselvam were 'protecting the Muslims like their children and family members'.
"Those unable to stomach this are unleashing lies and Goebbels like propaganda, but that will not benefit them. The people will also not believe them," he said.
DMK President M K Stalin said Friday's protests had been held in a peaceful manner and sought to know why the police used force to disperse them.
'Lathi-charge was done unnecessarily on the peaceful people for no reason and this prompted people across the state to take to the streets,' Stalin said in a statement.
He said Friday had been turned into a 'black night' for the protesters by the police.
Amma Makkal Munnetra Kazhagam leader T T V Dinakaran also targeted the government over the handling of the protest.
'Using force in peaceful protests amounts to stirring up a hornet's nest,' the independent legislator said in a statement.
He wished such incidents did not repeat.
The Vaiko-led Marumalarchi Dravida Munnetra Kazhagam adopted a resolution in its district secretaries meeting, slamming the police for allegedly using force against protesters.
Bharatiya Janata Party leader H Raja, whose party is an ally of the AIADMK in Tamil Nadu, slammed the violence against police personnel in the protests.
In a tweet, he said 'rioters should be dealt with an iron fist'.
Meanwhile, Viswanathan visited the injured police personnel admitted to a private and government hospital.
Later, he told reporters that he wanted to check if any public said to be injured in yesterday's incident had been admitted to the government hospital, but there were none.
Reiterating the need for peace, he appealed to the public not to share 'wrong or provocative' social media messages, especially on Twitter and Facebook.
"People of Tamil Nadu follow peace and maintain law and order. That tradition has to be followed," he said.
Protests continued in parts of the state including Chennai, Cuddalore and Ramanathapuram by members of the Muslim community, both against the CAA as well as demanding action over yesterday's episode.
Group protests in Delhi over Chennai police incident; detained
A group of people, including students of Jamia Millia Islamia, held a protest near the Tamil Nadu House here on Saturday over the alleged lathi-charge by the Chennai police on anti-CAA demonstrators.
The small group of protesters, which also included a couple of young women, tried to march from the Bihar Bhawan towards the Tamil Nadu House, and raised anti-BJP and anti-Rashtriya Swayamsevak Sangh slogans in Tamil.
The protesters were detained midway as they tried to march towards the Tamil Nadu House in Chanakyapuri, police said.
Later, a few more people, including women, were also detained.
The call for the protest in New Delhi was given by the Jamia Coordination Committee.