Soaring fuel prices give birth to a jugaad system in Bihar's border towns abutting Nepal with residents smuggling in India-supplied cheaper petrol and diesel from the mountain kingdom.
M I Khan reports.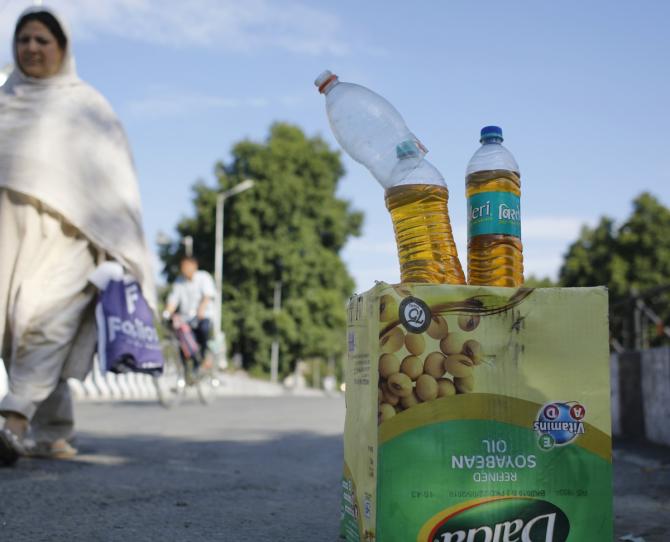 With fuel prices going through the roof across the country, people living in the border towns abutting Nepal have taken to purchasing petrol and diesel from across the border and bringing it over to make a killing.
The locals in areas close to the Nepal border call it their 'jugaad' (slang for innovation) to get cheaper fuel.
They simply cross the border on their motorcycles and drive back with the booty.
Over the last few days hundreds of two-wheelers and four-wheelers with Bihar registration plates have been making a beeline at fuel stations near the border areas of Nepal.
Some never-say-die ones even pedal across on bicycles to bring back petrol and diesel.
"It is easier for us to cross the border to refill our vehicles as petrol is cheaper in Nepal, unlike in petrol pumps in Araria,&" says a businessman dealing in electronics.
Petrol sells at Rs 94 per litre in Araria and more or less for the same price in the adjoining districts of Kishanganj and Purnea, but costs only Rs 71 a litre in Nepal.
Not only is it cheaper by Rs 23 across the border, when you factor in that 100 Indian rupees is equivalent to Nepalese Rs 160.15, the real difference is huge.
Taking advantage of the situation and to earn easy money, several people have been crossing the border to smuggle in cheap petrol and diesel to the bordering districts of Araria, Kishanganj, Madhubani and selling it to locals, who prefer to buy the fuel from them instead of from petrol pumps.
L Yadav and A Sheikh, residents of Araria district, cross the border, purchase petrol and diesel in big plastic jars in Nepal and bring it back to Jogbani to sell.
"Yes, we bring petrol and diesel from Nepal to earn some money locally. After purchasing the fuel, we carry it on our motorcycle through narrow tracks across the border to escape the security forces," says Yadav, a jobless youth since he returned to his native village last year after the lockdown.
They take care to avoid the main roads, particularly highways connecting to the Nepal border, as police supervision is intense there.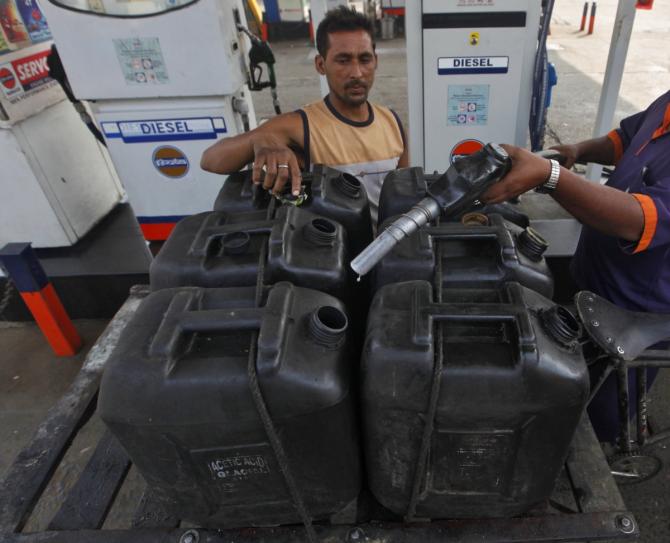 Several people have been caught by the local police and Sashastra Seema Bal jawans in this racket. But SSB officers say there are dozens of places on the porous border where people easily cross over through narrow tracks to bring back the fuel from Nepal undetected.
Till last March, Yadav, like thousands of Bihari migrant workers, worked at a factory in south India.
But the lockdown snatched away his sole source of livelihood and forced him like thousands of other migrants to return to his village without work.
The skyrocketing fuel prices have provided an opportunity for him to make some money.
"As I was jobless after the lockdown and wasting time without any work, some friends suggested that I join them to bring fuel from Nepal and earn some money. I am doing just that, even if one may call it smuggling," he says.
"I am doing it to make some money as people prefer to buy petrol diesel at a cheaper rate," adds Sheikh.
"We provide fuel at a cheaper price to retailers as well as vehicle owners, that is the main reason for the high demand, which also helps our business," Sheikh explains.
Both Yadav and Sheikh reveal that scores of poor people have been employed by the well-off to bring petrol and diesel in jerry cans from the Nepal side on foot to minimise the chances of getting caught by the SSB and police.
According to petrol pump owners in Jogbani, Forbesganj, Narpatganj in Araria and other border towns like Raxaul, Madhubani and Siramarhi, there has been a drastic decrease in the sale of petrol and diesel in the last two weeks as a large number of people have shifted to buying petrol and diesel from petrol pumps situated near the border areas in Nepal.
"Our business has been affected, daily sale is also badly hit and we are on the verge of making a loss as people prefer to buy their fuel from Nepal," says Mukesh Kumar, a petrol pump owner.
Petrol pumps in Nepal have reportedly recorded an increase of 20 to 30 percent in the sale of petrol and diesel in the last 10 days.
Interestingly, it is India that supplies petroleum products to Nepal. Each day, 250 tankers of oil are sent to Nepal at cost price as part of a treaty between the two countries under which the Indian Oil Corporation imports petrol for Nepal from the Gulf countries.
Feature Presentation: Rajesh Alva/Rediff.com