It is time he stood up and assured the middle class that they can count on him as one of their own, says Dr Sudhir Bisht.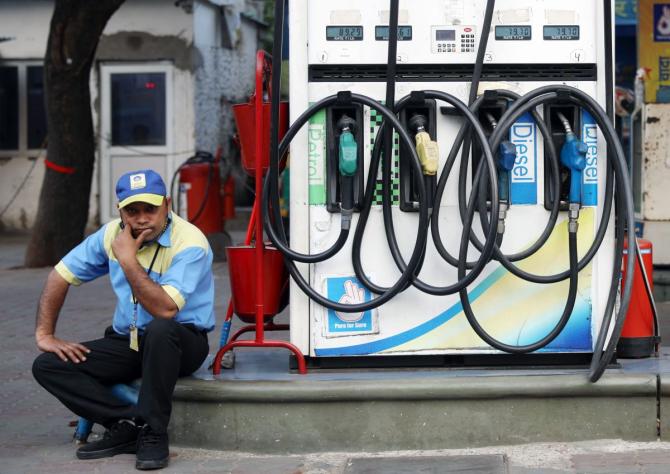 People of Delhi are paying Rs 89.29 (as of February 16) for a litre of petrol. Out of this, Rs 32.90 goes towards excise duty charged by the Union government while the Delhi state government gets Rs 20.61 as Value Added Tax (VAT). This means that consumers are paying a tax of 60% on petrol in Delhi.
In the case of diesel, the Union government gets Rs 31.80, while the Delhi government collects VAT of Rs 11.68 on every litre of diesel sold in Delhi. The retail selling price of diesel on February 16 stood at Rs 79.70 in Delhi. The, the citizens of Delhi pay 55% as tax on diesel.
When the National Democratic Alliance government took over from the United Progressive Alliance in 2014, the excise duty on petrol was Rs 9.48 per litre. In the case of diesel, excise duty was Rs 3.56. This means that the NDA government has increased excise duty on petrol and diesel by more than 3.4 times and 8.9 times respectively.
The biggest hike in excise duty took place on March 24, 2020, to raise additional funds to fight COVID-19. The excise duty on petrol before COVID-19 was Rs 22.98 per litre and Rs 18.83 in respect of diesel.
Everyone will agree that the prices of petrol and diesel have never been so high and yet the minister of petroleum recently said that the government had no intention of reducing the excise duty on petrol and diesel.
The Opposition parties too are quiet in this regard. This is because they are aware that their own governments in the states have been guilty of raising VAT on petrol and diesel to combat the financial crisis due to COVID-19.
I call for immediate reduction in petrol and diesel prices and my logic is as under:
Chief Economic Advisor Krishnamurthy Subramanian has said that the economy is witnessing a V-shaped recovery. As per the Economic Survey 2020-21 tabled in Parliament, the economy will rebound to 11% real GDP growth next fiscal. This means that the excise duty on petrol as well as diesel can be reduced by Rs 10 per litre immediately to bring it par with pre-COVID-19 levels.
GST collection as of January 2021 stands at Rs 1.2 lakh crores. This is the highest since the introduction of GST in the country. GST collections have been increasing steadily over the past four months. This also means that part of the record GST collections can be used to meet the expenses in the fight against COVID-19.
On February 13, the government of Assam reduced VAT on petrol and diesel, thereby making them cheaper by Rs 5. Assam will go to the polls in 2021 and the BJP government is determined to fight anti-incumbency in Assam, and one way of doing so is to provide significant relief to people.
A fall of Rs 5 in petrol and diesel prices is a sure-shot winner for any government. There are political pundits who declare that the BJP has become excessively overconfident of ruling India for the next 10 years. Their smugness comes from the charismatic leadership of Prime Minister Narendra Modi and their haughtiness flows from the toothless Congress under a rather disjointed Rahul Gandhi.
I do not believe these gurus as I know that the BJP is served by very intelligent minds. They can fathom the simmering discontent of the middle class that has no problems in paying international prices when the prices are high but the same set of people get angry when the benefit of low international prices is not passed on to them.
It will be politically prudent for the NDA government to roll back the excise duty to pre-COVID-19 levels.
The high prices of petroleum products in the international market means that now is the time to bring petroleum products under the GST regime. The top BJP leadership too would be happy to do so. I call for a fixed GST on petrol and diesel and not an ad valorem one.
Let us fix GST on petrol and diesel at Rs 40 per litre and abolish excise duty and VAT on these products. GST is very much needed in respect of petroleum products as this will remove disparity in prices among neighbouring states.
The vast difference in VAT between Delhi and Uttar Pradesh results in people from Noida (in UP) travelling to Delhi just to refuel their cars. The dead mileage incurred in this kind of a travel is wastage that should be averted.
In case the Union government doesn't want to reduce excise duty for whatever reason, they will have to bring in the concept of discriminatory pricing or slab system, at least for petrol.
Otherwise, the lowest income group that resides in small towns and big cities will vote out the NDA government in the next general elections.
But discriminatory pricing, which means creating price differential between car and motorcycle users, and slab pricing, which means charging lower prices for lower consumption slabs and higher for high consumption slabs, is replete with corruption and black marketing.
So it is best for the government to bring down the prices of petrol and diesel under GST.
The Union government must also find innovative ways to reduce dependence on imported fuel and must endeavour to make the public sector's refinery and marketing sectors more efficient. The old, inefficient refineries must be sold off or down closed.
A back of the envelope calculation reveals that if all old refineries are closed down and the new generation refineries are used to meet 100% of the refining needs of the country, it can lead to a significant reduction of Rs 2 in pre-pump prices.
Leakages and pilferages should be eliminated completely from the distribution network. Privatisation of at least one or two oil marketing companies (OMCs) must be expedited.
A less corrupt, more efficient and more competitive petroleum sector can easily reduce product pricing by 2 percent.
India has more than 60,000 fuel stations and 80 percent of them are dealer-owned, dealer-operated. These stations must be free to change brands and align with any private player that may be capable of bringing fuel at cheaper rates and retail at lower prices.
Blending of petrol with homegrown ethanol in the ratio of 80:20 must be achieved by 2025. This is an ambitious target set by the Government of India and this must be achieved to reduce some of the dependence on imported crude.
The Indian voter remains highly sensitive towards the rise in prices of petroleum products. In fact, high petrol prices is cited as one of the reasons for the disenchantment of Indian voters with an incumbent government and this played a significant role in voting out Manmohan Singh's UPA2 in the 2014 elections.
The NDA government must find more ways to fund MNREGA, MSP and programmes under the National Food Security Act and not depend solely on the petrol and diesel sectors for fund mobilisation.
The government must also understand that petrol is used not just by the car-owning population. The overworked and underpaid delivery boy of the Zomatos and the Swiggys of this world also buy petrol to power their bikes to make deliveries.
The drivers who chauffeur ministers's cars also buy two-three litres of petrol every week to reach the Lutyens bungalows of their masters.
Similarly, any hike in diesel prices affects the transportation sector almost immediately and this translates into inflation.
The middle class, that constitutes 28% of the Indian population, has been backing the NDA government completely.
It supported the abrogation of Article 370 and backed the government on the CAA.
The middle class followed Modi when he asked it to beat serving plates (thaalis) to show unity in the fight against coronavirus.
It supported Modi even as it faced discomfort during demonetisation.
It supported the disruptive implementation of GST.
It empathises with Modi when he is constrained not to take strong action against the Shaheen Bagh activists and andolanjivis.
Now is the payback time for the prime minister.
It is time he stood up and assured the middle class that they can count on him as one of their own.
That he, Narendra Modi, is not someone who lives in an ivory tower, but is the true servant-leader of a new India.
Dr Sudhir Bisht, author and columnist, writes from New Delhi.