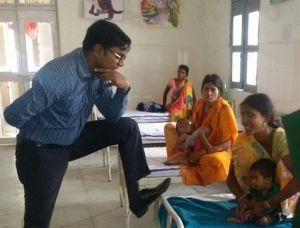 A young IAS officer in Chhattisgarh faced social media abuse on Wednesday after a photograph showed him standing and talking to a sick child's mother with his left foot resting on the steel rail of a hospital bed.
IAS officer Jagdish Sonkar, a 2013 batch officer went to Ramanujgank hospital on Monday for an inspection where he spoke to a patient. Many other patients and other hospital staff allegedly were furious over his behaviour. A source then clicked a photo, and posted it on social media, where it went viral.
For his "arrogant and insolent act", livid netizens rechristened the IAS as "India's Arrogant Service".
Twitter user Aniket Devdhar posted: "The term 'public servant' has lost its meaning long ago." Fellow tweeple Kanchan Gupta shared the photo and wrote: "Meet Chhattisgarh IAS officer Dr Jagdish Sonkar. He has a MBBS degree. He clearly knows his place in this country."
After the backlash, the Sub-Divisional Magistrate of Ramanujganj in Balrampur district said that Sonkar's "action was unintentional and avoidable."
Sonkar's gesture did not go down well with Chief Minister Raman Singh who told the media that he has instructed the General Administration Department to "train new officers in social behaviour and public dealing before sending them to field posting."