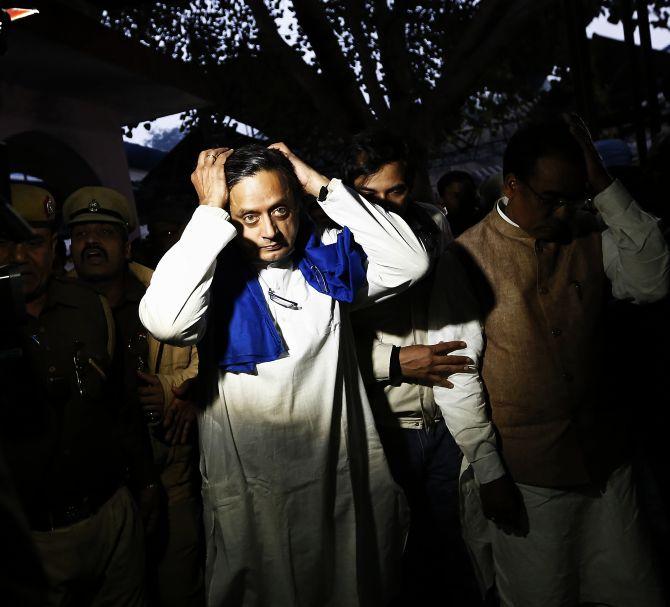 Congress Party MP Shashi Tharoor on Monday said that charging human rights watchdog Amnesty International with sedition is a big mistake.

"Amnesty has not advocated violence. If anyone indulges in encouragement of violence and hate speech, they should definitely act against them, but sedition is a grave charge," Tharoor said.

He said that national security in our country is not going to get compromised by few people shouting slogans.

"As far as I am concerned this charge should not have been brought, and now that the home minister of Karnataka has decided to drop it, I think we should now turn the page and move on," he added.

Karnataka Home Minister G Parameshwara had on Sunday said Amnesty International was not wrong in organising the event and that did not amount to sedition.

The comment garnered a strong reaction from the Bharatiya Janata Party with Finance Minister Arun Jaitley alleging that some political parties were indulging in vote bank politics for nefarious gains.

Union Parliamentary Affairs Minister Ananth Kumar said, "My basic question to (Chief Minister) Siddaramaiah and Karnataka Home Minister G Parameshwara is why are they interpreting sedition, it is their constitutional duty to register cases of sedition against not only Amnesty India, but also against its office bearers and participants, who raised anti-India
slogans. They should book them immediately and take appropriate action."
On August 13, the Indian chapter of Amnesty International had organised an event as part of a campaign to seek justice for "victims of human rights violations" in Jammu and Kashmir. That event took an ugly turn with heated exchanges and a raising of anti-India slogans.
Mounting pressure on the government post the incident, BJP activists staged protests in Bengaluru and other places demanding that a case of sedition be registered against Amnesty International.
Karnataka Police filed an FIR under Section 124 (a) of the Indian Penal Code amounting to sedition against Amnesty on August 15. The case was registered at the JC Nagar police station in Bengaluru.