Cries of 'Jai Hind' rent the air as a large number of people bid a final adieu to Colonel Viplav Tripathi, his wife and five-year-old son, who were killed in a terrorist attack in Manipur two days ago, in their hometown Raigarh in Chhattisgarh on Monday.
Meanwhile, three other personnel of the Assam Rifles, who were killed during the attack, were cremated in their respective ancestral villages in Rajasthan, Assam and West Bengal.
Colonel's 70-yr-old mother salutes son, chants 'Jai Hind'
The last rites of the colonel were held with full military and state honours while his wife and son were cremated and buried, respectively.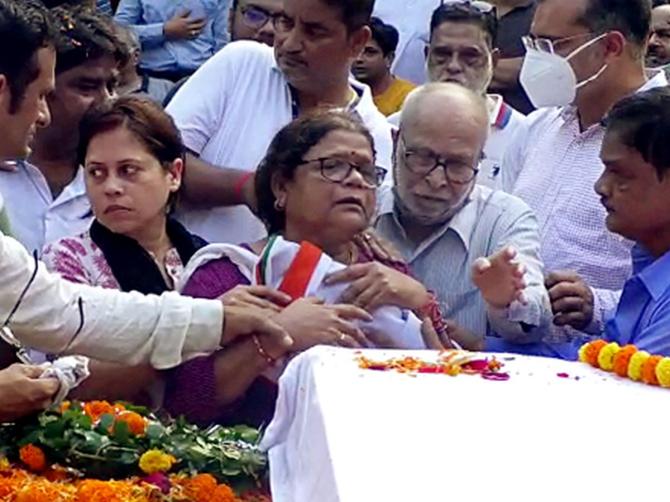 The atmosphere turned more sombre when the colonel's grieving mother, Asha Tripathi, 70, saluted the mortal remains of her son and chanted 'Jai Hind' after all his family members laid floral wreaths at coffins in the crematorium in Raigarh.
Colonel Tripathi, the Commanding Officer of Khuga Battalion of the Assam Rifles, his wife Anuja, 36, son Abeer, 5, along four personnel of the paramilitary force were killed in an ambush by terrorists in the north-eastern state on Saturday.
Earlier in the day, a special plane of the Indian Air Force carrying mortal remains of the martyred colonel, his wife and son, landed at an airstrip in Raigarh at 12:42 pm.
From the airstrip, the bodies, kept in coffins, were taken in an open flower-decked truck to Colonel Tripathi's home with a large number of people standing on both sides of the road chanting 'Colonel Viplav amar rahe'.
The mortal remains were kept at the Ramleela ground for the public to pay homage and from there the funeral procession was taken out to the crematorium near the circuit house.
Personnel of Assam Rifles paid floral tributes and accorded a Guard of Honour to the departed colonel.
The mortal remains of Colonel Tripathi and his wife were consigned to flames while their son was buried at the crematorium.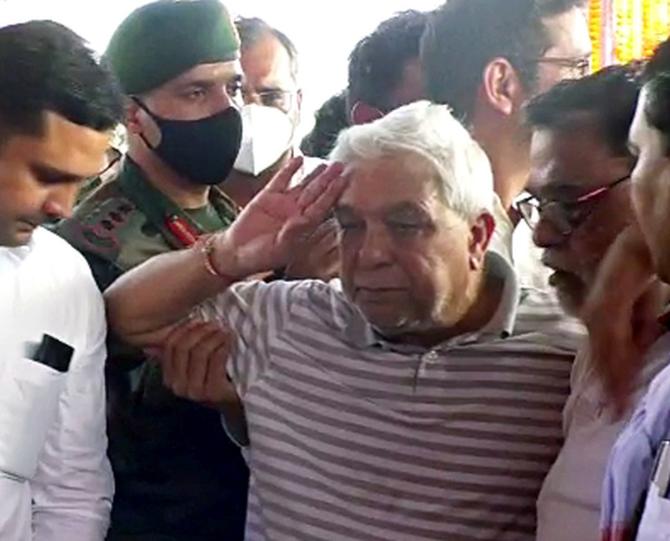 The colonel's younger brother, Lieutenant Colonel Anay Tripathi, who is posted in Shillong, lit the funeral pyre.
Chhattisgarh Higher Education Minister Umesh Patel, Raigarh Bharatiya Janata Party MP Gomti Sai, MLS and senior officials also paid floral tributes to the martyred colonel, his wife and son.
A spontaneous bandh was observed in Raigarh town.
A large number of people turned up at Colonel Tripathi's house to pay tributes to him.
Colonel R S Thakur of the Assam Rifles, four other officers and 45 personnel, who reached Raigarh on Sunday evening, visited Colonel Tripathi's house to express condolences to the bereaved family members.
Col Tripathi's father Subhash Tripathi is a senior journalist and editor of a local Hindi daily.
Colonel Tripathi was inspired by his freedom fighter grandfather Kishori Mohan Tripathi, who was also a member of the Constituent Assembly, a family member had said.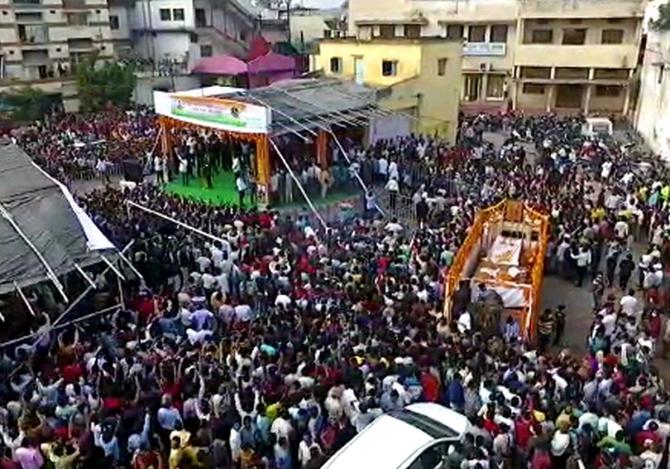 He was commissioned as a lieutenant in the Kumaon Regiment in Ranikhet in 2001.
Jawan R P Meena cremated in ancestral village in Rajasthan
The mortal remains of Assam Rifles jawan R P Meena, who was killed in an ambush by insurgents in Manipur, were consigned to flames on Monday at his ancestral village in Rajasthan's Dausa district.
Around 5,000 people had gathered to bid adieu to the slain soldier whose body arrived in Jaipur by air and was taken to Dilawarpur village in Dausa in a military truck.
A large number of people on motorcycles and other vehicles escorted the military truck.
The funeral took place near Meena's home, local Baswa police station SHO Dara Singh said.
State Social Justice and Empowerment Minister Rajendra Yadav, Dausa MP Jaskaur Meena, MLAs Murari Lal Meena and G R Khatana, and other leaders and senior district administration and police officials were present at the funeral.
Wife salutes Rifleman Swargiary, 2.5-yr-old son lays flowers on coffin
A tearful farewell was accorded to Suman Swargiary, the Assam Rifles personnel killed in Manipur ambush, at his residence in Assam's Baksa district on Monday, with his inconsolable wife saluting the mortal remains for the final time amidst heart-wrenching cries.
The two-and-a-half-year-old son of the couple lay flowers at his father's coffin, oblivious of the grief and loss engulfing the family.
The body of Swargiary reached Guwahati airport in the morning from Jorhat airport, where a military flight carrying the mortal remains of four Assam Rifles personnel and family members of one of them killed in the ambush on Saturday had remained overnight.
The flight had to land at Jorhat airport on Sunday due to some technical issues while en route from Manipur's capital Imphal to Guwahati, an Army spokesperson had said.
At Guwahati airport, Assam cabinet minister Keshab Mahanta paid last respects to the slain personnel on behalf of the state government and also accompanied the cortege to the martyr's home, a state government official said.
Mahanta and his cabinet colleague U G Brahma attended the last rites performed with military honours, with district civil and police administration top officials also being present, he added.
As the mortal remains of the 33-year-old rifleman reached his home, cries of his family members rent the air.
Two nurses helped Swargiary's wife to bid her final farewell as she feebly stood and saluted her slain husband, while a family member held the couple's son in her arms and guided him to lay flowers at his father's feet and bow his head.
'He said he would call again but the news of his death came'
Mortal remains of Assam Rifles (AR) personnel Shyamal Das were brought home in Khargram in Murshidabad on Monday as tributes poured in amid occasional outpouring of grief.
The cortege carrying the body of Rifleman Das reached his village Kirtipur by road from Panagarh air force station, where it was flown in from Imphal.
Hundreds of people stood on two sides of the road to pay respects to Das as the cortege slowly made its way to his residence.
Das, who had joined the country's oldest paramilitary force 11 years ago, last visited home before Durga Puja and had promised to return again during Nabanna (harvest celebration in Bengal), his wife recounted.
"He stayed at home for 20 days on his return from Delhi, where he had gone for some training," she said.
Apart from wife, the slain soldier left behind his eight-year old daughter, who studies in Class 1, and aged parents, according to family sources.
"He had spoken to me over phone on Saturday morning and said he would call again in the evening after returning to his quarters; instead the call came from his office with the news (of his death)," the wife said, breaking down in tears.
The soldier's childhood friends and neighbours, as well people from nearby hamlets, gathered at his modest household since morning to accord a hero's welcome to his remains, which arrived in a coffin draped in Tricolour.
The coffin was kept outside the house for some time for people to offer tribute, with several senior officials of Murshidabad district paying a visit.
The slain rifleman was honoured with a gun salute by Army jawans before his body was taken for funeral.