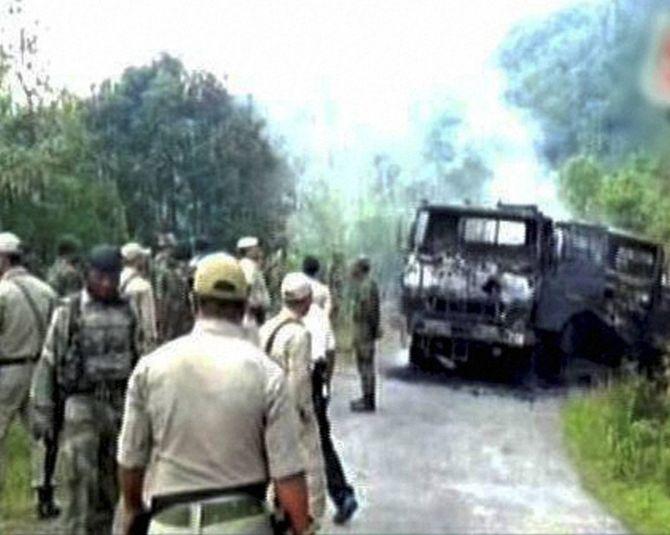 The site of the ambush in Manipur
Manipur needs an integrated politico, military, socio-economic approach, says Sanjeev Nayyar.
An attack by Naga militants in Chandel district of Manipur resulted in the deaths of 18 jawans. The last such attack was in 1987 when the Nagas attached an Assam Rifles post in Manipur.
This author had visited Manipur and Kohima in 2014 for Sangai and Hornbill cultural festivals. Also drove 110 kms to the border town of Moreh which is in Chandel district where the attack took place.
Some notes about attack.
A team of 6 Dogra Regiment was getting de-inducted (it was returning after its stint). Units are mostly ambushed during induction (to scare them) or de-induction (to give a message) thus all have to be very alert.
During deinduction other members of the battalion or another unit are supposed to conduct a specific operation to clear the road called road opening patrol. Unit has to move only after ROP is established.
According to a media report there were 35 jawans in the vehicle and vehicles too close to each other.
Brigadier B K Ponwar, head of Counter Terrorism and Jungle Warfare College Kanker, says that 'in insurgency areas like the north-east before deinduction, ROP should be in place by having cleared the road of IEDs, piquet's having been established, mobile armed patrols along the axis, first and last vehicle should have armed protection with no other loads. As per rules, a distance of 100 to 150 metres between vehicles is required and troop carrying vehicles must have 22 jawans.'
Going by what happened it appears there was a gross violation of standard operating procedures.
The Telegraph newspaper reports that things got worse because the battalion's commanding officer was on leave. His second-in-command had moved ahead to Chandigarh and others officers of the ranks of major, captain were on leave or temporary duty out of field area to take examinations.
According to an editorial in the Sangai Express, published from Imphal, the PRO of both the army and Assam Rifles were on leave at the time of ambush adding to the confusion on what exactly transpired.
The hilly terrain and technology allows attackers to monitor movements of army vehicles from heights. Guerrillas strike at weak spots, the unit presented a weak spot.
Tengnoupal is very scenic but the terrain very difficult as you can see in pic. During my visit found jawans doing an excellent job of checking since local traders bring vehicle loads of consumer goods from international market at Moreh.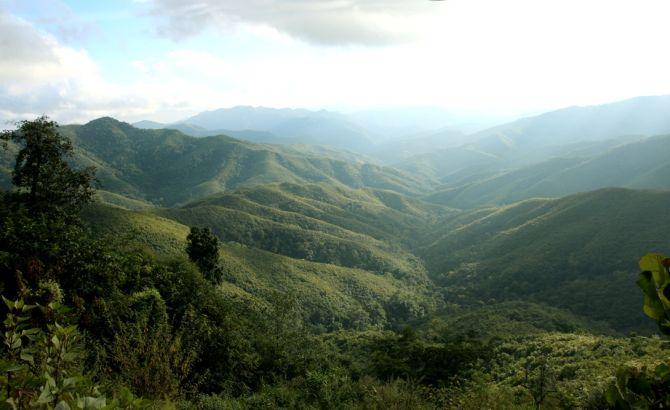 View from Tengnopal
Who was behind the attack and Myanmar angle?
Three organisations are supposed to be involved: National Socialist Council of Nagaland-Khaplang, Kanglei Yawol Kanna Lup and the Kangleipak Communist Party. In the past, the other two had maintained linkages with NSCN-K. Note Chandel district is dominated by the Kuki community, which invariably converts to Christianity.
The primary objective of the NSCN-K is the establishment of a 'Greater Nagaland' comprising of the Naga-dominated areas of the neighbouring states within India, and contiguous areas in Myanmar. KYKL is a Meitei group that wants to rebuild Manipuri society by clearing it of all vices like immoral activities, drug trade and corruption. It is primarily funded by extortion. The main objective of KCP is to restore the independence of the erstwhile Manipur kingdom and to bring about an egalitarian society.
There is a Myanmar angle
During 1995 armies of the two countries conducted joint operations, Operation Golden Bird, to get rid of north-east insurgents who after training in Bangladesh would infiltrate into India through Myanmar. 'The 57Indian Mountain Division had tracked a column of 200 insurgents from various groups -- the NSCN, ULFA and Manipuri rebels -- who had picked up a huge shipment of arms south of Cox's Bazar on the Bangladesh coast and was moving along the Myanmar border towards Manipur. Between them, the troops from India and Myanmar soon had the rebels trapped in a pincer movement.
It was at just that moment that the government in New Delhi, which was then a vocal supporter of the opposition in Myanmar, gave Aung San Suu Kyi the Nehru Award for International Understanding. The military junta in Myanmar were not impressed, and pulled out of the operation, allowing the rebels to escape.'
India should be guided by national interest and not assume that Myanmar's fear of China's rise is powerful enough to push closer relations with India.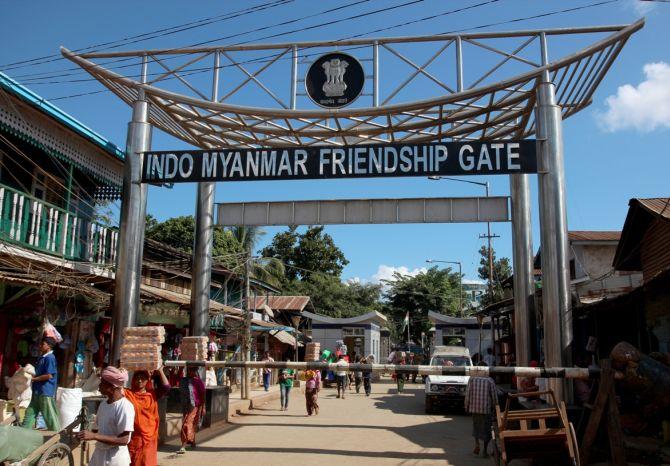 Border with Myanmar at Moreh
One of the alleged perpetuators of latest attack, NSCN-K is also active in Myanmar. The government there is in negotiation with 16-18 insurgency groups including NSCN-K for a long term cease-fire and joining the democratic process.
Sensing that it cannot deal with two hostile governments, NSCN-K has struck a deal with the government of Myanmar to join the democratic process. How then, can India motivate Myanmar to take action against NSCN-K?
Media reports state that terror groups in the north-east, under Chinese influence, have regrouped to form United Liberation Front of Western South East Asia under the leadership of Khaplang, chairman of NSCN-K.
Some more observations:
One, trade at border town of Moreh is done both legally and illegally. Betel nuts, drugs and timber are smuggled in large quantities, said locals. This could be a source of funding for terror groups.
Two, rarely do terror groups target local politicians. Why? Many locals told me of an unholy nexus between local politicians, contractors and terror groups to milk huge financial grants from the Centre. Some added that sections of the police force were involved too. That leaves only the army to control insurgency. Not a good situation to be in.
Three, the N Santhosh Hegde Commission (appointed by the Supreme Court) indicted the security forces for extra judicial killings. An Officer admitted there might be some excesses but added that the commission's report had a demoralising impact on the armed forces.
Four, the Dimapur-Kohima-Imphal road is Manipur's lifeline. This has given the Nagas undue control over Manipur. They block the highway at will and prices in Manipur skyrocket.
Five, according to the December 3 2014 issue of Eastern Monitor Kohima, 24 per cent salaries of its one lakh employees is being deducted by Naga political groups. Also a shop owner from Chennai, now married in Kohima, said terror groups come and negotiate tax to be paid. In her book War and Taxes, Rakhee Bhattacharya calls it a 'revolutionary tax'. Local sources say annual budget of NSCN-IM is over Rs 10,000 crore.
Six, the Meitei insurgent groups feel that the government has always paid more attention to the Nagas. I am sure public perception in the rest of India is similar.
Seven, Nagas need to reflect on their achievements of 50 years of statehood and realise that the concept of Greater Nagaland (includes areas of adjoining states and Myanmar) will never be allowed by Myanmar and India.
What then is the way forward?
One, The Modi Sarkar needs to seriously engage with the government of Myanmar simply put engage with all centres of power.
Two, India must strongly take up the matter of terror groups with Myanmar and explore conduct of joint operations like in 1995. The army chief should visit Myanmar.
Three, improve people to people contact by starting the long discussed bus service from Imphal to Mandalay. This would allow more Indian tourists to visit Myanmar using Imphal as a base and Burmese devotees to visit Bodh Gaya. (there could be regular flights from Imphal to Gaya). Inflow of tourists will boost economies on both sides of the border.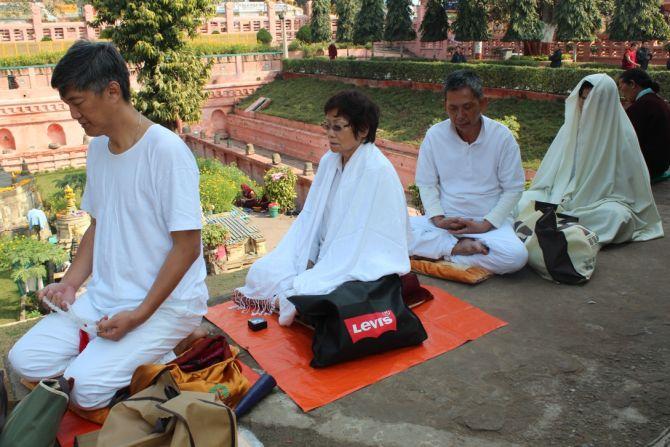 Burmese devotees at Bodh Gaya Mandir
Four, the road from Silchar in Assam to Imphal should be repaired ASAP. Locals told me that a small section is controlled by Kuki community who are against its repair. Note that Manipuris are a very brave and proud people hence dislike being held to ransom by Nagas.
Five, come down strongly on smuggling especially of drugs. With broad guage connectivity to Silchar done it has now become easier for Indian companies to send their products to Myanmar.
Six, take an integrated approach to dealing with insurgency across various north-eastern states.
Seven, engage with the Meitei insurgent groups. Manipur has a rich tradition of music and dance like other states of the north-east.
Eight, every time PM Modi has a Madison Square type event it should be preceded by performance of artists from Manipur, Nagaland etc. All states to be encouraged to hold weeklong cultural festivals, one day for each of the seven states. Cannot tell you how happy Manipuris were to meet a Mumbaikar.
Nine, whilst urging utmost care the government must support the armed forces totally and withstand pressure from international human rights groups.
Ten, the armed forces must ensure PRO is available at all times and better media management at local level.
Eleven, promote tourism to north-east, Manipur in particular being in one corner of India. Did you know that the largest freshwater lake in the Indian sub-continent is, the Indian flag was first hoisted in Manipur not to forget the state being birth place of Polo.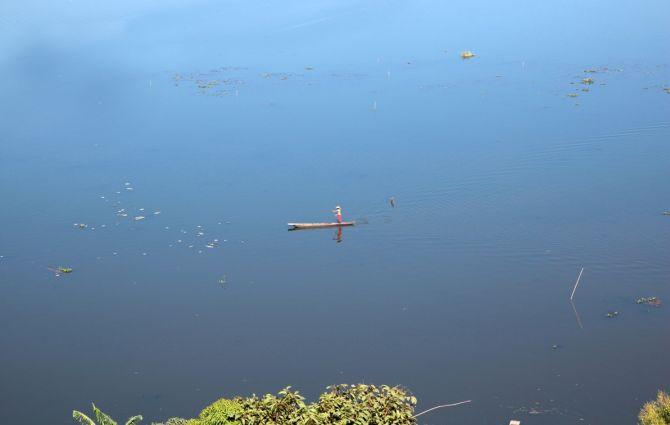 Lohtak lake
Lastly improve the quality of governance at the state level. Corruption and extortion have to fall substantially.
Tripura is an excellent example where insurgency was resolved through an integrated politico, military, socio-economic and psychological effort with the chief minister as orchestra-commander. People have to be made to realise that in India, democracy allows anyone to win elections and work for the benefit of people. Violence has short-term and limited impact. Read: AFSPA removal: Why Tripura and J&K are very different
I enjoyed every minute of the ten days I spent in Manipur. Amazing dance, rocking music, indigenous games fun to watch, great markets and lovely people.
India needs to recognise who its friends are and then invest in relationships.
Sanjeev Nayyar is an independent columnist and travel photographer.