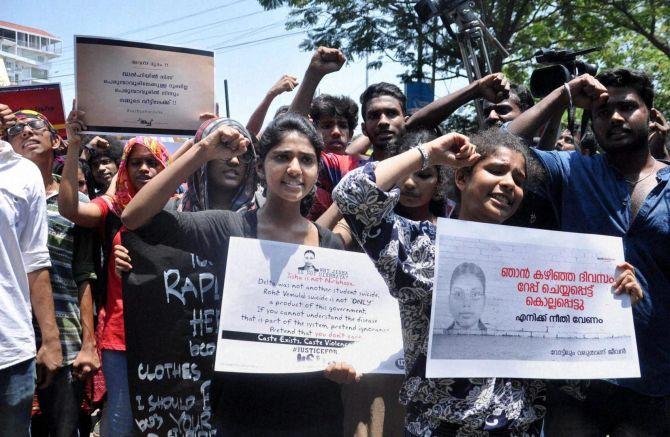 Amid mounting protests over delay in arresting those involved in the brutal rape and murder of a Dalit woman, Kerala Chief Minister Oommen Chandy on Wednesday visited the ailing mother of the victim admitted to a hospital in Perumbavoor and said the culprits would be brought to justice at the earliest.
The chief minister, who reached the hospital amid protest by Democratic Youth Federation of India activists alleging lapses in the probe, consoled the mother of the victim and said steps would be taken to provide a government job to the victim's sister to support her family.
"I assure you that the culprit behind this brutal crime would be brought to justice," Chandy said.
Dismissing suggestions that the case has been weakened due to delay in arresting the culprits, the chief minister said, "Nothing will block the strong legal action. I assure you the government will take it as a very serious thing and we will book the culprits and bring them before the law."
Three persons have been taken into custody by police for questioning in connection with the rape and brutal murder of the 30-year-old Dalit woman in Ernakulam district.
The woman, a law student who hailed from a poor family, was allegedly subjected to rape and brutal assault using sharp edged weapons before being murdered at her house in Perumbavoor on April 28.
No formal arrest has been made yet in the crime that shocked the state triggering intense politicking ahead of the May 16 Assembly polls.
Ernakulam Range IG Mahipal Yadav has said there were signs of strangulation, smothering and 13 injuries on the woman's neck, chest and at several other places of the body.
Some reports said the victim sustained around 20 injuries and her intestines were pulled out.
The crime has been dubbed 'Kerala's Nirbhaya' for its chilling similarities to the 2012 gang rape of a young paramedic student in a moving bus. The girl later succumbed to her injuries.
Women's rights activists and political leaders, cutting across party lines, have voiced concern over the murder which they believe was a first of its kind in the state for the sheer brutality of the crime.
Image: Students hold a protest march demanading justice in the rape and murder case of a law student, in Kochi, on Tuesday. Photograph: PTI Photo