In the wake of the land subsidence incident in Uttarakhand's Joshimath, the Centre on Sunday constituted a team of experts from seven different organisations to study and submit its recommendations.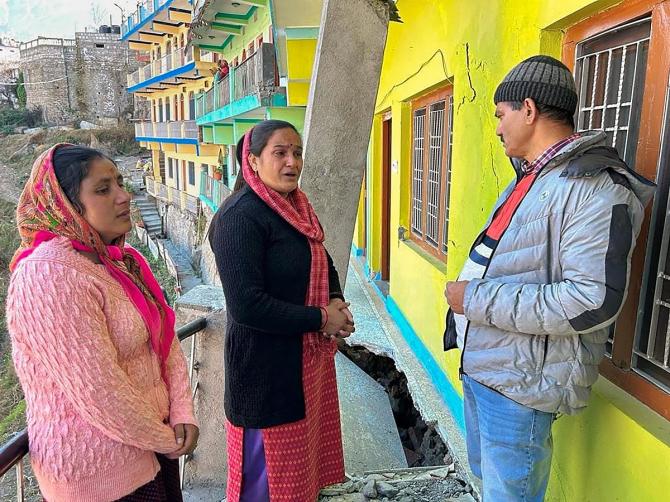 A team of experts from the National Disaster Management Authority, National Institute of Disaster Management, Geological Survey of India, IIT Roorkee, Wadia Institute of Himalayan Geology, National Institute of Hydrology and Central Building Research Institute have been tasked to study and give recommendations on Joshimath situation.
The decision was taken in a high-level review meeting chaired by principal secretary to prime minister PK Mishra.
In the meeting, it was also decided that the secretary of border management and members of NDMA will visit Uttarakhand on Monday and assess the Joshimath situation.
Uttarakhand chief secretary SS Sandhu briefed Prime Minister's Office from Joshimath during the review meeting chaired by the principal secretary to the prime minister, who also was apprised that government of India agencies and experts are assisting the state government to prepare short, medium and long-term plans.
Mishra was also informed that one team of the National Disaster Response Force and four teams of State Disaster Response Force have already reached Joshimath.
The cabinet secretary and senior government officials and members of the National Disaster Management Authority along with other officials and departments concerned attended the meeting chaired by Mishra at PMO earlier in the day.
District officials of Joshimath were also present in the meeting through video conference on this issue.
Senior officers of Uttarakhand also attended the review through video conferencing.
The gateway to pilgrimage sites like Badrinath and Hemkund Sahib, Joshimath is facing a major challenge due to land subsidence, with more than 600 houses developing cracks.
On Saturday, Uttarakhand Chief Minister Pushkar Singh Dhami visited the affected areas and met people whose houses had developed cracks.
The chief minister said the multi-institutional experts and scientists are studying the land subsidence to suggest measures and decode reasons behind this.
Dhami reiterated the government's topmost priority is to save lives.
In a telephonic conversation with Dhami, Prime Minister Narendra Modi on Sunday also inquired about the steps taken for the safety and rehabilitation of the affected residents of Joshimath.
According to Chief Minister's Office, PM Modi inquired about the progress of immediate and long-term action plans to mitigate and resolve the concerns of residents.
"PM Modi spoke to CM Pushkar Singh Dhami over the telephone and inquired about the steps taken for the safety and rehabilitation of the affected residents and the progress of the immediate and long-term action plan to solve the problem," the Uttarakhand CMO said in a statement.
The CMO added that the Prime Minister was personally monitoring the situation in Joshimath and the ongoing work to ensure the safety of civilians in the area.
PM Modi also assured all possible assistance to save Joshimath in his telephonic conversation with Dhami.