Uttarakhand Chief Minister Pushkar Singh Dhami on Saturday reviewed relief and rescue operations with senior officials of the government after returning to Dehradun from on-site inspection of Joshimath landslide area gave directions for forming a coordination committee immediately at the government level under the chairmanship of the Additional Chief Secretary and at the local level under the chairmanship of the Commissioner Garhwal.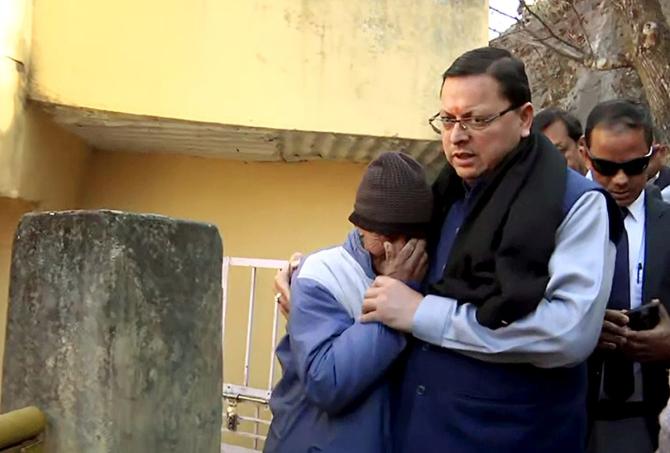 The meeting was held at the Disaster Management Center located at the Secretariat.
The coordination committees have been formed to provide help in relief and rescue of the people affected by the landslide.
During his inspection of Joshimath landslide area, the Chief Minister also met the victims.
An official release said that the Secretary to Chief Minister R Meenakshi Sundaram and Commissioner Garhwal Division Sushil Kumar will camp in Joshimath from Sunday.
The Chief Minister gave instructions to help the victims by moving away from the disaster norms and to make arrangements for relief under Corporate Social Responsibility (CSR).
He also talked about the constitution of a high-powered committee for approval of works under disaster management so that relief and rescue works can be done expeditiously.
Along with declaring Joshimath as a landslide area, an additional amount of Rs 11 crore has been made available to the District Magistrate Chamoli under the disaster head.
On the instructions of the Chief Minister, the Director National Remote Sensing Center (NRSC) Hyderabad and the Director Indian Institute of Remote Sensing (IIRS) were requested to study the Joshimath area with detailed satellite images and provide a detailed report with photographs.
'Along with this, geological survey has been expected from the Deputy Director General Geological Survey Institute of India for the suitability of Koti Farm, Herb Institute, Horticulture Department's Joshimath land and Peepalkoti's Semaldala land,' the release said.
'Director IIT Roorkee, Director Wadia Institute of Himalayan Geology, Director National Institute of Hydrology Roorkee and Director CSIR, Central Building Research Institute Roorkee have also done a detailed survey and study of the Joshimath area,' it added.
The Chief Minister has also given directions for the survey study of Joshimath area.
He said coordination between various institutions in the Central and State Government should also be ensured.
He gave instructions to make the Disaster Management Centre more effective.