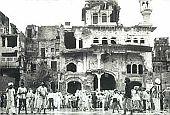 The Centre is contemplating to ask Punjab government to invoke a 1988 law on prevention of misuse of religious institutions, to stop the Shiromani Gurdwara Parbandhak Committee from constructing a memorial to honour Khalistani propagandists, who were killed in Operation Bluestar in the Golden Temple.

The home ministry is expected to ask the state government to use the religious institutions (prevention of misuse) Act, 1988, under which authorities can ban misuse of religious institutions for political and other purposes and any activity which promotes or attempts to promote disharmony in society.

The action comes in the backdrop of SGPC's building a memorial in the Golden Temple in Amritsar to honour those who were killed in security forces' Operation Bluestar in 1984 to flush out militants from Sikh shrine, official sources said on Friday.

The 1988 Act prohibits use of religious institutions or allow the use of any premises belonging to, or under the control of the institution, promotion or propagation of any political activity and harbouring of any person accused or convicted of an offence under any law for the time being in force.

The legislation also bans keeping any goods or articles in contravention of any law for the time being in force or for erecting or putting up of any construction or fortification, including basements, bunkers, towers or walls without a valid licence or permission under any law.