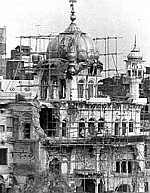 The government has decided to provide security to Brigadier (retd) Israr Rahim Khan, who led the first army troops that entered the Golden Temple in Amritsar during Operation Blue Star.
Lt Gen (retd) K S Brar and seven other former army officers, who participated in the 1984 operation to flush out militants from the Golden Temple, would continue to enjoy security by army soldiers.
A committee, headed by Union Home Secretary R K Singh, has decided that Khan, who is in his seventies, would be provided security immediately by central agencies and that after some time, the Uttar Pradesh police will take over his security, official sources said. The retired army officer lives in the outskirts of Delhi.
The decision has come in the wake of the September 30 attack in London on 78-year-old Brar, who had led Operation Blue Star. Brar has said that he is convinced it was an attempt by "pro-Khalistan elements" to assassinate him for his role in the 1984 operation.
Khan's security was withdrawn in 2004 after he was asked to vacate his government accommodation in Delhi cantonment, which was allotted to him following his retirement from the service.
The government has decided that 'Z' category security would continue to be provided to Brar by army commandos. Army soldiers would also guard seven other army officers, who live in various army cantonment areas.
The committee also streamlined the mechanism for providing security to Brar and other officers whenever they travel out of their place of stay. Steps are being taken to ensure that all stakeholders are informed in advance about their travel plans.
The action came after it was found that there was a communication gap between the defence establishment and the home ministry.
Henceforth, local army authorities in Mumbai would immediately inform the home ministry through the defence ministry whenever Brar undertakes any travel abroad and the home ministry will ensure his security outside the country through foreign governments.
Ever since Operation Blue Star, army troops have been guarding the officers on the basis of the security assessment made by the home ministry.
Brar was stabbed in the neck and cheek near Oxford Street in London on September 30 when he was walking down to his hotel with his wife.

Image: The aftermath of Operation Blue Star on the Akal Takht in the Golden Temple