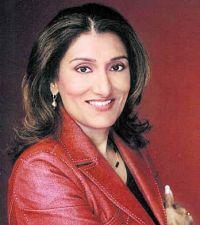 Indian-American journalist Rena Golden, who led news teams for two media giants in the United States for nearly two decades, passed away peacefully on Wednesday, at her home in Atlanta after a two-year battle with lymphoma. She was 51.
"Born in northeastern India in 1961, her parents brought her to the United States as a child, where a life of accolades and a career with a global news network awaited," CNN reported.
In addition to her husband, Rob Golden, she leaves behind a daughter, Sabrina, and a son, Adam.
Golden was "a devoted wife and above all, a dedicated mom," her husband wrote.
"She was a whirlwind of inspiration, but also always ready to have a quiet moment if someone needed guidance or advice," says Rachel Clarke, a senior editor at CNN.com.
"Our extended CNN family is really sad tonight," former CNN anchor Daryn Kagan wrote on her Facebook page Wednesday. "We lost a good one. One of the superstars viewers don't see behind the scenes."
After earning degrees in Mideast studies and English from the University of North Carolina, she moved to Austin, Texas to attend the university there for a master's degree in journalism.
"In 1985, she landed at CNN in Atlanta, where she moved upward in the organization from writer to producer to executive producer to vice president. By 2000 she was named senior vice president of CNN International, managing a staff of more than 100 journalists. She became senior vice president of CNN.com in 2007," reports stated.
"She joined The Weather Company in 2011, after successful chemotherapy for lymphoma, which was diagnosed in 2010. But three months into her role as senior director of digital content, the cancer returned. During two more rounds of more aggressive treatments, Golden continued to work from home, leading her team. She approached the disease as a bump in the road, and remained positive and forward thinking," the Weather Channel reported.
A funeral service is scheduled for Sunday at Temple Kol Emeth in Marietta, Georgia.
Image: Rena Golden