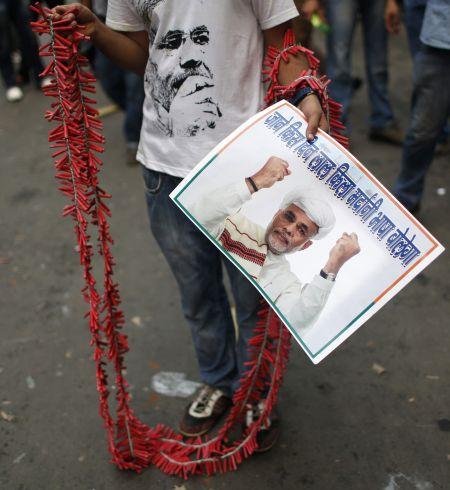 Modi rocket, Modi bomb, Priyanka sparklers. This Diwali, politicians are the rage when it comes to firecrackers. Fireworks with the prime minister's face and name are selling like hot cakes everywhere
And Diwali got so much more interesting as competition emerged in the market between the sparklers named after Congress President Sonia Gandhi's daughter Priyanka known as 'Priyanka phooljhadi'
Adding to the excitement of the festivity, is the accomplishment of the Indian scientists for the mission to planet Mars — Mangalyan mission — which is being showcased in form of a fancy crackers.
Shopkeepers said that all items with Modi's name are doing brisk business with Modi bullets and Modi sparklers selling out fast.
Sports is not far off in this as crackers named after Asian Games boxing champion MC Mary Kom known as 'Mary Kom Anaar' are also being sold.
Photograph: Ahmad Masood/Reuters. Image is used for representational purposes only.