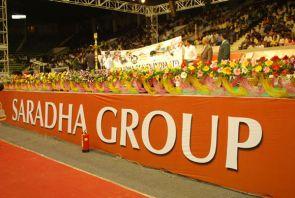 Central Bureau of Investigation on Wednesday registered a record number of 46 cases in a day in connection with its probe in the Rs 10,000-crore Saradha chit fund scam naming Trinamool Congress' sitting Rajya Sabha MP Kunal Ghosh as one of the accused.
After registering three fresh cases in West Bengal and 42 cases taken over from Odisha Police which was probing the case, CBI spokesperson said the larger conspiracy angle, including the role of regulatory authorities and money trail in this scam, will also come under the scanner during investigation.
CBI sources said role of regulatory bodies like Securities Exchange Board of India, RBI and the Ministry of Corporate Affairs will be examined as per the orders of the Supreme Court which had directed the agency to probe the case.
In its three FIRs pertaining to cases in West Bengal, CBI has registered cases against Chairman-cum-Managing Director of Saradha group Sudipta Sen, the then Director Saradha Realty Debjani Mukherjee, the CEO Saradha Media Kunal Ghosh, also a TMC MP, the then Senior Vice President Saradha Media Somnath Dutta, the then Director of Saradha Realty Manoj Naghel and an employee of Saradha Group of Companies Aurobindo Chauhan.
Ghosh did not respond to messages and calls sent to seek his reaction.
"These FIRs cover the four front-runner companies of the said Group. Other documents relating to the said Group are being scrutinised for further course of action. The documents of certain companies other than the said group of companies are in the process of collection as well as scrutiny," CBI spokesperson Kanchan Prasad said today.
The agency has registered the cases for alleged criminal breach of trust, cheating and criminal conspiracy among others.
In 46 FIRs registered in Odisha, CBI has accused Pradeep Sethi, MD of Arthsatwa group and Prashant Das of Sea Shore group besides MDs and other officials of Rose Valley micro finance, Saradha Group, Astha International among others, CBI sources said.
"In Orissa, CBI has registered 43 cases against 43 companies & the then MDs; then Directors and others on allegations of cheating, criminal breach of trust, conspiracy etc. Scrutiny of more documents is being carried out for future course of action," Kanchan Prasad said.
The Supreme court had last month handed over the Saradha chit fund scam to CBI and asked the state governments to provide all logistical help to the CBI team probing the matter.
CBI has formed a Special Investigating Team (SIT) headed by Joint Director Rajeev Singh to also probe the role of Securities Exchange Board of India (SEBI) and RBI.
"Investigation conducted so far puts a question mark on the role of regulatory authorities like SEBI, Registrar of Companies and officials of RBI within whose respective jurisdictions and areas of operation the scam not only took birth but flourished unhindered," an apex court bench headed by Justice T S Thakur had said in its order.
CBI Special Director Anil Kumar Sinha has been asked to monitor the progress in the probe and exercise administrative control under the overall supervision of the CBI director.
While Sen was arrested by West Bengal Police in Kashmir last year, Kunal Ghosh was apprehended on November 23 last year in connection with the scam.