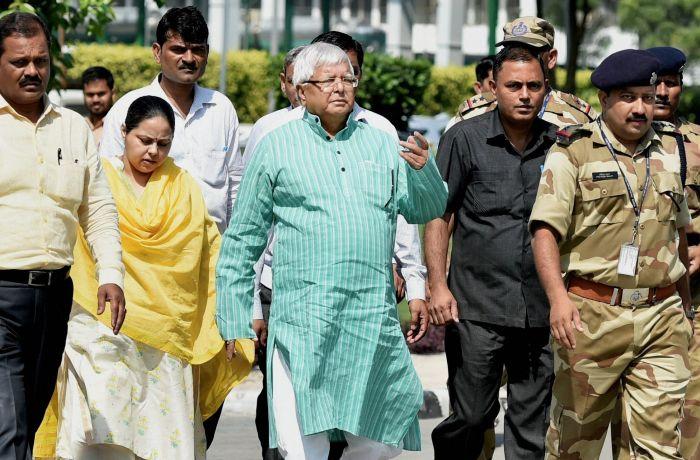 IMAGE: IMAGE: RJD leader and former railway minister Lalu Prasad Yadav, accompanied by his daughter Misa, arrives at the CBI headquarters in New Delhi on Thursday. Photograph: Vijay Verma/PTI Photo

Former railways minister and Rashtriya Janata Dal supremo Lalu Prasad Yadav was questioned for seven hours on Thursday by the Central Bureau of Investigation in connection with alleged corruption in the award of contract for the maintenance of two IRCTC hotels in 2006.
Yadav arrived at 11 in the morning and was taken directly to the investigation team, CBI sources said.
His daughter Misha also accompanied him but was asked to wait in the lobby at the ground floor of the agency headquarters, they said.
During the seven-hour-long questioning session, the team asked Yadav mostly about award of the contract, land deals of the company now owned by his son, relations with Prem Chand Gupta, and relations with owners of the beneficiary firm which won the contract among others, they said.
The CBI interrogation was cordial and 'all the courtesies were extended' to him, according to the sources.
They said his wish for less spicy food was also fulfilled from the CBI canteen during lunch.
The RJD supremo was offered aloo bhujia, daal and rice during lunch and three rounds of tea, they said.
Yadav also acknowledged that the team was cordial and was 'just doing its job' but did not mince any words about the National Democratic Alliance government which he said was trying to 'frame' him and his family in 'false cases' out of political vendetta.
"The CBI officers were cordial but what can they do? They are following orders of the government of India which is acting out of political vendetta against me and my family. I do not have any complaints against the CBI but it is the Union government which is targetting me and my family," he told reporters after coming out of questioning session.
People stood outside the CBI headquarters for a glimpse of Prasad as his Mercedes SUV was being readied for his departure in the evening.
Yadav, whose RJD won maximum seats in the last assembly elections in Bihar, said it was he who had turned the fortunes of railways by recording a profit of Rs 7,000 crore which became a case study for universities like Harvard.
"I had stopped pilferage in railways, made it cost efficient, improved revenue and now I am being blamed for corruption. This is nothing but targetting me and my family," he said.
His son Tejashwi has been called for questioning on Friday, the sources said.
"I have told the CBI that I will be co-operating. I did not seek time today because else I would have been blamed for running away," Yadav said.
The case pertains to allegations that Prasad, as railway minister, handed over the maintenance of two hotels run by the Indian Railway Catering and Tourism Corporation, a subsidiary of the Indian Railways, in Ranchi and Puri to Sujata Hotel, a company owned by Vinay and Vijay Kochhar, in return for a prime plot of three acres in Patna through a benami company.
The FIR alleged that the RJD leader abused his official position for extending undue favours to the Kochhars and acquired a piece of 'high value premium land' through the benami firm Delight Marketing Company.
As a quid pro quo, he 'dishonestly and fraudulently' awarded the contract to them for the two hotels.
After the tender was awarded to Sujata Hotel, the ownership of Delight Marketing also changed hands from Sarla Gupta to Rabri Devi and Tejashwi Yadav between 2010 and 2014.
By this time, Lalu had resigned as railway minister. The CBI registered the case against Lalu, his wife Rabri Devi, son Tejashwi, who was deputy chief minister until a few months ago, and Sarla Gupta, wife of Prem Chand Gupta, a former Union minister.
Others named as accused in the FIR include Vijay and Vinay Kochhar, both directors of Sujata Hotels and owner of Chanakya Hotel, Delight Marketing Company, now known as Lara Projects, and then IRCTC managing director P K Goel.