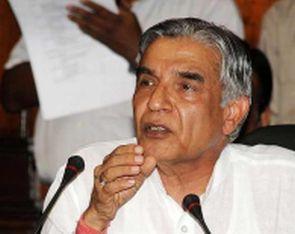 In a stunning revelation, an officer of the Central Bureau of Investigation has alleged that his superior officer, a deputy inspector general, had tried tipping off former Railway Minister Pawan Kumar Bansal's nephew Vijay Singla about raids being launched against him and others in connection with a jobs and transfer scam in the railway ministry.
A television channel, ZEE TV, quoted Inspector Balbir Singh as naming CBI DIG (Chandigarh) Mahaesh Aggarwal for trying to influence the investigation in two cases involving Bansal's relatives and aides.
Inspector Singh has submitted an affidavit to this effect before the Central Administrative Tribunal, wherein he squarely blames DIG Aggarwal for having close family links to Bansal, and of trying to derail the probe in the Rs 10-crore railway scam.
In his affidavit of May 15, Singh also claims that Aggarwal had tried to manipulate a probe against Chandigarh Municipal Corporation's joint commissioner Rajiv Gupta -- brother of Bansal's close aide and auditor Sunil Gupta -- in a corruption case.
Singh said he refused to submit to pressure from Aggarwal. Singh was later transferred to Bhopal, he challenged the transfer order and the CAT has stayed it.
The CBI, in a press release issued last week, said it has not ordered any internal inquiry against any of its officer in connection with the alleged ''leakage'' of information on searches conducted in Chandigarh in the railways bribery case.
On Monday, at least 10 Bharatiya Janata Party activists were injured after police used water cannons to stop them from marching towards CBI office to protest against Chandigarh's CBI Deputy Inspector General Mahesh Aggarwal.
Several local party workers, led by BJP leader Harmohan Dhawan, protested against Aggarwal alleging that he had close family links with Bansal and had shielded the former railway minister after the arrest of his nephew in a multi-crore graft case.
The protesters tried to take their march towards the local CBI office but were stopped by police, following which the BJP activists tried to break the barricades.
"Our's was a peaceful protest...without provocation police used water cannons against us," Dhawan said.
Aggarwal, a 1994 batch Tamil Nadu cadre IPS officer, came to Chandigarh as a superintendent of police in 2006 and was later promoted to DIG rank.
(ANI with inputs)