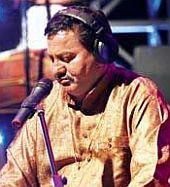 The Central Industrial Security Force on Sunday seized 14 cartridges of .32 bore pistol from renowned Sufi singer Pyare Lal Wadali at Rajasansi Airport in Amritsar when he was ready to board a flight for Delhi from here.
Officials at the airport said the cartridges were recovered from Wadali's luggage when it was being screened in the X-ray machine.
When Wadali was questioned, he instantly admitted that the cartridges belonged to him but were mistakenly brought in his baggage.
He also produced his license of .32 bore pistol. The CISF, customs and immigration officials besides the intelligence sleuths present at the airport allowed him to board the Jetlite flight from Amritsar to Delhi when they were convinced with his version that the cartridges were packed mistakenly in his luggage.
The cartridges were, however, confiscated by the CISF, which provides security to airports and guards other vital installations, and Wadali was issued warning to remain careful in future.
The Wadali brothers group of famous Sufi singers have performed in various Bollywood movies, including Pinjer.
Pyare Lal Wadali, his brother Puran Chand Wadali and son Lakhwinder Wadali have performed at many international platforms.
The Wadalis have an ancestral house at Wadali village near Chehertha in Amritsar where they live as a joint family.
Image: Pyare Lal Wadali