The death toll from the Ankara bombing climbed to 37 on Monday after three more people died from their injuries. Sunday's car bomb attack on the city's main transport hub was the second major attack in Turkey's capital in less than a month.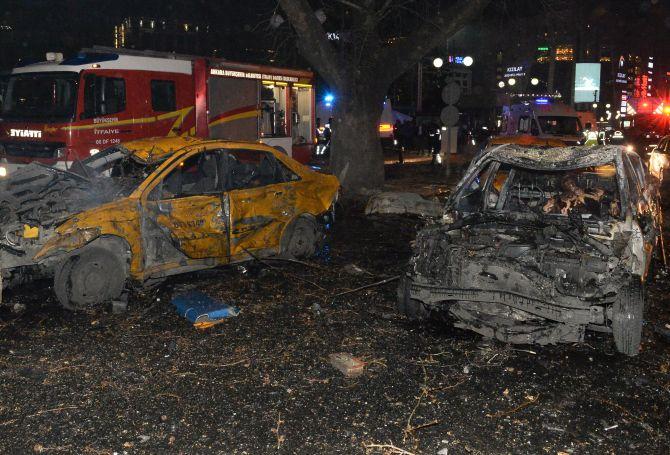 The wreckage of two cars is seen after an explosion in Ankara's central Kizilay district. Photograph: Defne Karadeniz/Getty Images
The explosion, the second such attack in the administrative heart of the city in under a month, happened in Guven Park in the Kizilay district, a key transport hub and commercial area.
The Hurriyet newspaper said the latest blast happened at about 18:40 (16:40 GMT) and the area was evacuated in case of a second attack. Many ambulances were at the scene, it added.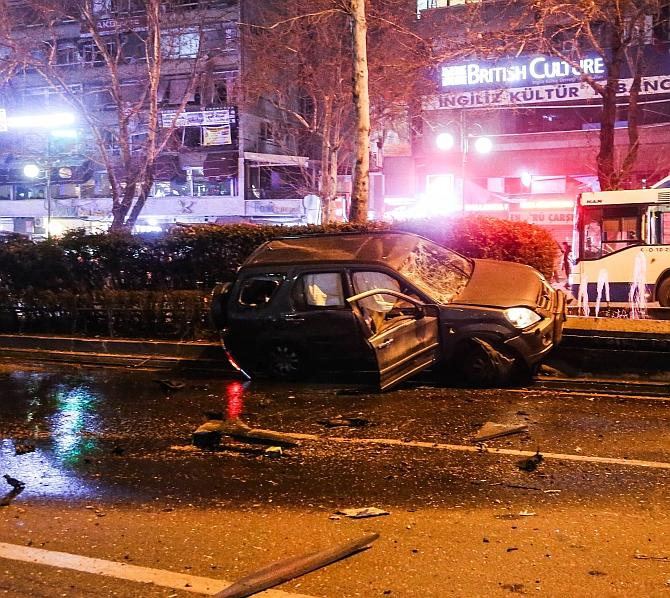 A car is seen burnt out after a blast on March 13, 2016 in Ankara, Turkey. Photograph: Elif Sogut/Getty Images
The blast, which could be heard several kilometers away, sent burning debris showering down over an area a few hundred meters from the Justice and Interior Ministries, a top courthouse, and the former office of the prime minister.
"These attacks, which threaten our country's integrity and our nation's unity and solidarity, do not weaken our resolve in fighting terrorism but bolster our determination," President Tayyip Erdogan said in a statement.
No group has yet claimed the attack. But a security official was quoted as saying that they believed Kurdish militant group, Kurdistan Workers' Party, were behind the bombing.
"According to initial findings, it seems that this attack has been carried out either by the PKK or an affiliated organisation."
"Tonight, civilian citizens waiting at a bus stop were targeted in a terrorist attack with a bomb-laden car," Ala told reporters after a meeting with Prime Minister Ahmet Davutoglu, the head of the intelligence agency and security chiefs.
"Significant findings have been made, but the organization behind this will be announced once the investigation has been finalised," he said.
President Recep Tayyip Erdogan said terror groups were targeting civilians because they were losing their struggle against Turkish security forces.
He said such attacks "increase our determination to fight terrorism".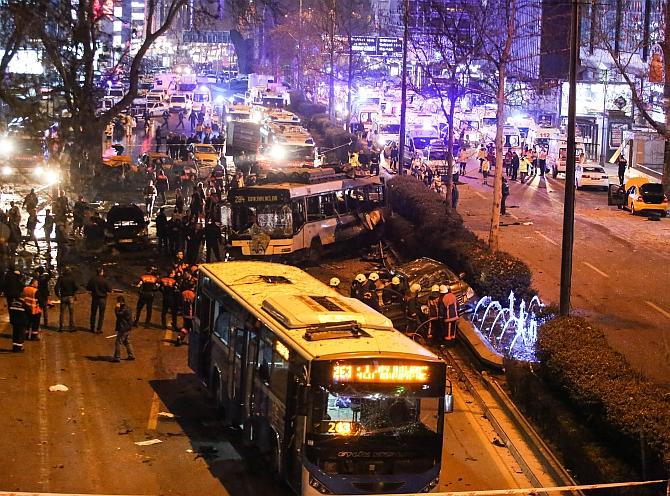 Emergency workers respond at the scene after an explosion in Ankara's central Kizilay district on March 13, 2016 in Ankara, Turkey. Photograph: Defne Karadeniz/Getty Images
Hurriyet also reported that a court in Ankara had ordered a ban on access to social media, including Facebook and Twitter, saying it was to stop people sharing images of the attack.
The bombing came two days after the US Embassy issued a warning that there was information regarding a potential attack on government buildings in the Bahcelievler area of Ankara, just a few km (miles) away from the blast site.
The United States condemned the attack, saying in a White House National Security Council statement: "This horrific act is only the most recent of many terrorist attacks perpetrated against the Turkish people. The United States stands together with Turkey, a NATO ally and valued partner, as we confront the scourge of terrorism."
Other world leaders joined in condemning the bombing. British Prime Minister David Cameron said he was "appalled," while French Foreign Minister Jean-Marc Ayrault described it as a "cowardly attack". Russian President Vladimir Putin described it as "inhuman," his spokesman Dmitry Peskov told Russian news agencies.
"There can be no justification for such heinous acts of violence. All NATO allies stand in solidarity with Turkey, resolute in our determination to fight terrorism in all its forms," NATO Secretary-General Jens Stoltenberg said.
Australian Foreign Minister Julie Bishop said the country's ambassador to Turkey, James Larsen, was in a car at an intersection 20 meters from where the bomb was detonated.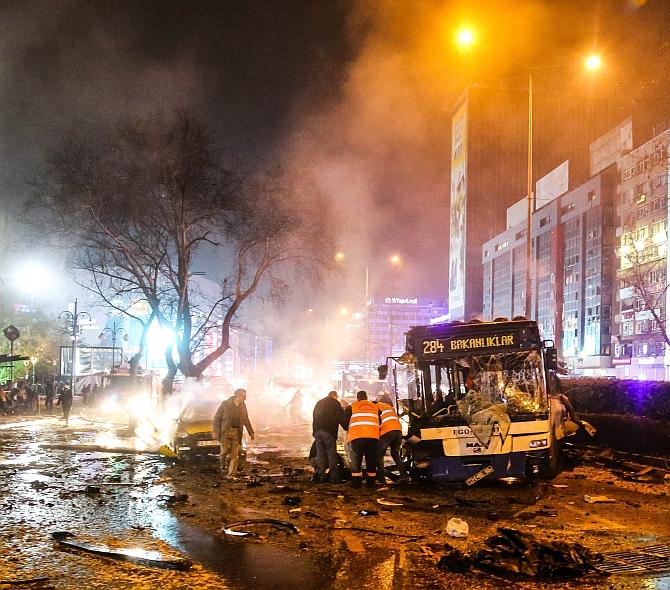 Emergency workers are seen helping victims at the explosion site on March 13, 2016 in Ankara, Turkey.. Photograph: Elif Sogut/Getty Images
Fadi Hakura, a Turkey expert and associate fellow at Chatham House, told Al Jazeera that insecurity was becoming the new normal in the country.
"Insecurity and instability now is the new dynamic in Turkish politics and in society," he said.
"Both of the last two attacks happened before the summit between the EU and Turkey, so I suspect that the group that carried out these attacks was seeking maximum publicity not just in Turkey but in the outside world to make it clear that Turkey is insecure and unstable place."
Turkey has been fighting on multiple fronts. As part of a US-led coalition, it is battling the Islamic State of Iraq and the Levant group, which has seized territory in neighbouring Syria and Iraq.
It is also battling outlawed Kurdistan Workers' Party in its southeast, where a two-and-a-half-year ceasefire collapsed last July, prompting the worst violence since the 1990s.
Turkey sees the unrest in its largely Kurdish southeast as deeply linked to events in northern Syria, where the Kurdish YPG militia had been seizing territory as it fights both ISIL and rebels battling President Bashar al-Assad.