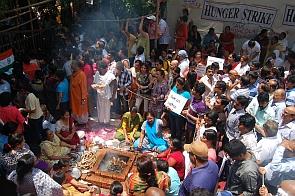 At around 2.26 pm on Thursday afternoon, residents of five buildings inside the Campa Cola Compound in Worli in central Mumbai heaved a collective sigh of relief. A few moments later they burst out into an impromptu gig -- mostly the elderly participated.
India's apex court, the Supreme Court, had ruled that the Brihanmumbai Municipal Corporation, the local self governing authority for Mumbai, should give another five months to the residents to vacate some 140 residential units in these five buildings that had been constructed after violating floor space index and coastal regulatory zone rules that govern construction of apartments within the city limits.
In the same ruling, the SC has also ruled that these residents should not file any petition in any subordinate courts against vacation of their dwellings. In a way, these residents were celebrating a victory that gave them temporary relief -- some 150 days more to stay in houses they had called home for more than 30 years.
Sometime in October the BMC, which had come all set with an intention to demolish these dwellings, will come back again with state-of-the-art machinery and demolish these 140 illegal apartments.
"We will be homeless soon," said Ramesh Jangid, a senior citizen who had moved into Patel building in 1986. Yet, the five-month stay had come as a major relief, he said. "Now, we know that October is our final deadline," he said ruefully.
While the young and the middle-aged had been busy for more than five hours since 9 am organising protests, shouting slogans gathering support, participating in a yagya (holy ritual), the elderly had kept a close vigil inside the building compound.
Outside the gate, in solidarity, and also in part because they had a vested interest, the maids -- some 40 or 50 odd -- who earn anywhere between Rs 3,000 to Rs 7,000 every month working at these people's homes had formed the first line of protest.
In a stark irony, these women who reside in neighbouring slums, mostly illegal, and always live under the sword of demolitions, were acting as a bulwark against the law enforcers.
If situation were to turn ugly they would be the first ones to obstruct the municipal authorities and policemen from entering inside the gate that had placards flaying the BMC. The national tricolour that stood flaccidly atop the gate, in yet another irony, separated the haves from the have-nots.
"These people give us jobs. We work at their homes and earn money that feeds our families," said Shakuntalabai, who worked at three households and earned Rs 3,000 for her efforts. "My maalik (employer) also takes care of my son's schooling," said Usha Jadhav, another slumdweller who worked at these buildings and earned Rs 5,000 every month.
On the other side of the gate, the affected affluent residents, mostly women and small children had organised themselves into three layers. The one immediately near the gate comprised teenagers. They were the most vociferous with their protests and slogan shouting.
Behind them sat sadhus in white robes, pouring oil into the havan kund -- a square structure built of red bricks -- chanting the Gayatri mantra, the warder off of evil, in unison with the women who sat surrounding them.
The third layer, in and around the havan kund were women who had been on a hunger strike for the past few days in protest against BMC's demolition drive. They had perched atop a dais following their fellow protesters below.
The chanting of the mantras and slogan shouting would become more vociferous every time trucks loaded with municipal workers, dressed in khaki, would pass the building gate.
"We want justice, Bharat Mata ki Jai," would rend the air even as sadhus continued with their divine invocations.
"Why thus rush to demolish our buildings?" ask three youngsters who had stepped outside the compound to inquire of some BMC officials if they would have the heart to render their homeless.


These residents alleged that once their buildings are demolished the owners of the land would directly pocket 64,000 sq feet of floors space index. "There is a nexus here," alleged Rahul Gupta.
Staying on the fifteenth floor of Midtown, which would also face the hammer come October, Rahul said a few local politicians and a local builder had plans to construct a five star hotel in the vicinity once the building is demolished and the floor space index right now occupied by these 140 illegal households get released into the market for use by them.
However, now that the Supreme Court has given them relief for another five months just so that they can vacate their premises and make alternative arrangements once the monsoons are over, the residents are a hapless lot.
"I don't know why I bought two flats in Orchid," said Sanjeev Chawla pointing towards Orchid. Thankfully, Chawla's two flats are on the fourth and thirteenth floor. While one will meet its fate, he would still have the other one he can call home.
The others, though, are not as lucky.
Image courtesy: Prasanna D Zore