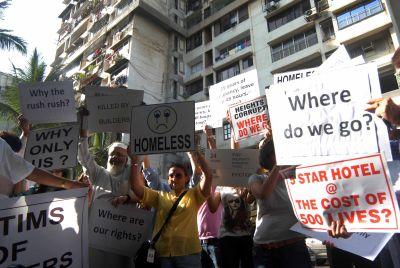 In a relief to the residents of Campa Cola compound in Worli in Mumbai, the Supreme Court on Thursday stayed the demolition of buildings and granted five months to flat owners to vacate the premises.
A bench headed by Justice G S Singhvi, however, said that no further time would be given to the flat owners and directed them to file an affidavit in the apex court giving undertaking that they would vacate the building.
The court also said that the flat owners would not file any petition in the high court or subordinate courts against order for vacating their flats. The bench directed that all amenities including water and electricity supply must be restored by the Municipal bodies if it has been disconnected.
Seven high-rise buildings were constructed at Worli's Campa Cola compound between 1981 and 1989. The builders had permission for only six floors. One of the compound buildings, Midtown, has 20 floors and another building, Orchid, 17 floors. The apex court had earlier on February 27, refused to regularise the floors which were constructed in violation of the sanctioned plan. The bench had said that the government authorities have "miserably" failed to perform their duties in implementing municipal laws for planned development of the cities.
Photo credit: Sahil Salvi/Rediff.com