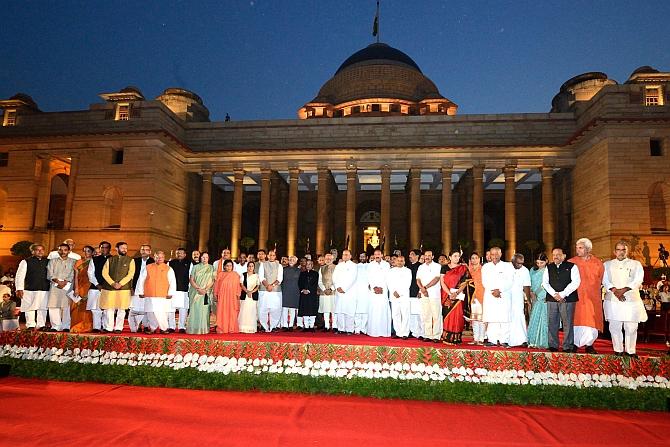 Only those who perform well as parliamentarians will be eligible for induction into the Narendra Modi-led council of ministers, likely to be expanded after the new government's first full Parliament session in July.

The National Democratic Alliance government will present its first Budget during that session.

The message from the Bharatiya Janata Party leadership to its members of Parliament is that Modi will keep an eagle eye on the performance of all party MPs during the July session. To expand his council of ministers, he will pick only those he deems to have made a mark.

Party sources said expansion of the council of ministers would have to wait until the July session because most MPs were unknown entities. "We will like to see their interests and skill sets and how they perform in Parliament," a party leader said.

The MPs will be rated on attendance, interventions in debates and the questions they ask in Parliament.

The sources said Modi, since his days as Gujarat chief minister, was a stickler for the performance of his party's elected representatives.

The prime minister is against including dynasts in his council of ministers. This was why Modi's 45-member ministerial council has only one minister of state from Rajasthan, where the BJP won all the 25 seats.

According to party sources, the inclusion of minister of state for chemicals and fertilisers, Nihal Chand, was made at the last moment on Monday. It seems the BJP's Rajasthan unit had sought a minister of state's post for Dushyant Singh, son of Chief Minister Vasundhara Raje. Singh, 41, is a second-time MP from the Jhalawar-Baran
constituency.
Himachal Pradesh, where the party won all four Lok Sabha seats, has no representation in Modi's council of ministers. The state unit wanted Hamirpur MP Anurag Thakur, son of former chief minister Prem Kumar Dhumal, in the council.
In both cases, the party leadership rejected the proposals.
Rajbir, an MP from Uttar Pradesh and son of former Uttar Pradesh chief minister and BJP vice-president Kalyan Singh, and Chhattisgarh Chief Minister Raman Singh's son Abhishek didn't find slots in the council of ministers sworn in on Monday.
The only exception was Piyush Goyal. The BJP treasurer and Rajya Sabha MP, given independent charge of the power, coal and renewable energy ministries, is the son of former party treasurer Ved Prakash Goyal. Party sources say Goyal actively joined the party only after his father passed away. Through his work, he won the admiration of both Modi and Finance Minister Arun Jaitley.
According to norms, the size of a council of ministers should not exceed 15 per cent of the strength of the Lok Sabha. Therefore, Modi's council of ministers cannot have more than 82 (plus one -- the PM) members, as the Lok Sabha has 543. As such, the NDA government can add another 37 to its council of ministers.
However, that is unlikely, given Modi's insistence on 'minimum government, maximum governance'. Party sources said up to a dozen and a half ministers could be added.
Allies such as the Shiv Sena and the Telugu Desam Party, which have only a minister each in the council of ministers, are likely to be given two minister-of-state portfolios each. Also, states such as Uttarakhand, Rajasthan and Himachal Pradesh will be given better representation.