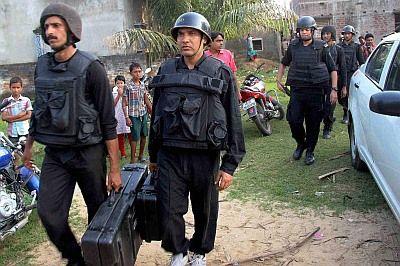 The National Investigation Agency and the Jharkhand police achieved a breakthrough in the Burdwan blast case when an alleged Jamat -ul-Mujahideen Bangladesh terrorist was arrested in Pakur district of Jharkhand.
Lal Mohammed alias Ibrahim Sheikh was wanted by the NIA in connection with the October, 2014, bomb blast at Burdwan and was arrested yesterday along with four crude bombs, a revolver and some ammunition, the NIA claimed.
A pen drive containing jihadi material and ideology of banned terror outfit JMB is also alleged to have been recovered from him, they added.
It was claimed that Mohammed was a close aide of Sheikh Rahamatullah alias Sajid Sheikh, the chief of JMB operations in India, and was taking charge of the functioning of the terror outfit after the latter's arrest in November, 2014.
He is alleged to be running a terror camp inside a madrassa (religious school) in Mukimnagar area of Murshidabad district of West Bengal.
He is a resident of Shahebnagar village in Murshidabad and is alleged to have been a frequent traveller to Pukar and other districts of Jharkhand to find recruits.
The NIA had filed a charge sheet on March 30 against 21 people, including four Bangladeshi nationals, in which the agency had claimed that JMB wanted to establish Sharia rule by overthrowing the democratically-elected government in Bangladesh.
On October 2 last year, a blast took place inside a house at Khagragarh in which one person, Sakil Gazi, died on the spot while another person, Sovan Mandal, died in hospital after being admitted there. Both the deceased were suspected to have terror links.
The NIA later found that the actual identity of Mondal was Karim Sheikh and he had misled West Bengal police about his identity.
The NIA claimed that all the JMB terrorists were involved in the conspiracy to overthrow the existing democratic government in Bangladesh 'through violent terrorist acts and replace it with a hard-line Sharia-based Islamic rule, which came to light after the accidental blast'.
The investigation by the NIA, which was spread over a number of states, has found that the JMB has established its network in India primarily in West Bengal, Assam and Jharkhand.
The JMB's activities in India were primarily found to include recruitment, radicalisation and training of vulnerable youths in a systematic and organised manner and, in pursuance of the conspiracy, they had established organisational bases in certain districts of West Bengal like Nadia, Burdwan, Murshidabad and Birbhum as well as in Sahebganj district of Jharkhand.