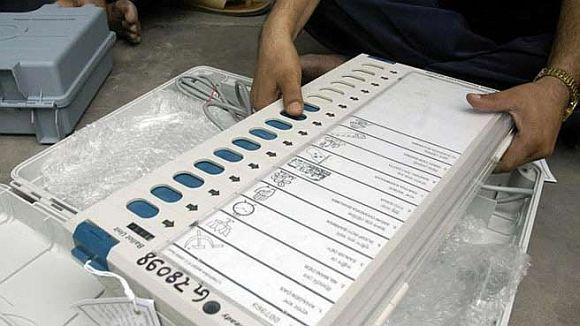 In a big boost to the ruling Samajwadi Party ahead of the 2017 Uttar Pradesh assembly polls, it won 23 out of 28 local bodies seats of the state legislative council on Sunday, while Bharatiya Janata Party, a major contender to power, drew a blank.
Of the five remaining seats, Bahujan Samaj Party got two and Congress one, while the rest two were bagged by independent candidates.
With this victory, SP has gained a majority in the 100-member Uttar Pradesh legislative council. The party had earlier faced difficulty pushing through its legislative in the upper house due to lack of numbers.
The Election Commission had issued a notification on February 8 for polling to 35 seats. Seven Samajwadi candidates were declared elected unopposed.
With Sunday's results the break up of party-wise strength in the Upper House is: SP-58, BSP-16, Congress-2, BJP-7, Teachers Group-5, Independents-6, Rashtriya Lok Dal-1 and Vacant-5.
Of the 28 seats which went to polls on March 3, SP has won 23, including Gorakhpur, which was bagged by the party's official candidate C P Chand.
Though Chand was expelled from the party after being given ticket, he was declared elected as an official SP candidate by the EC.
A jubilant Samajwadi Party National general secretary Ram Gopal Yadav said the results showed that people of the state have "accepted the development agenda" of the party.
"The people of the state are with us and we will win the 2017 assembly polls," he said soon after the results were declared.
BJP, however, downplayed its defeat stating that the elections were won with "money and muscle" power.
"The elections were won by the ruling party with money and muscle power. These were not direct elections and were managed by the ruling party," BJP spokesman Vijay Bahadur Pathak said.
In PM Narendra Modi's Varanasi Lok Sabha constituency, jailed mafia don Brijesh Singh, an Independent, defeated SP candidate Meena Singh, while sitting Congress MLC Dinesh Pratap Singh won in Congress president Sonia Gandhi's Rae Bareli constituency.
BSP got two seats -- Jaunpur and Saharanpur -- where its candidates Brijesh Singh Prinshu and Mehmood Ali won.
In SP supremo Mulayam Singh Yadav's constituency Azamgarh, Rakesh Yadav of the Samajwadi Party defeated Rajesh Singh of BJP while in Badaun, Banwari Singh Yadav of SP defeated Jitendra Yadav of BJP.
In Lakhimpur, SP candidate Shashank Yadav defeated BJP's Hitendra Verma, while in Ballia, SP's Ravishankar Singh Pappu defeated Anup Singh of BJP.
In Bareilly, Ghanshyam Lodhi of SP defeated BJP's PP Patel and in Moradabad, Parvez Ali, son of SP's cabinet minister Mehboob Ali defeated Asha Singh of BJP.
In Shahjahanpur, Amit Yadav Rinku of SP defeated BJP's JPS Rathore, in Barabanki Rajesh Yadav, Hardoi Misbauddin, Mirzapur Ramlali Mishra, Gonda Mahfooz Khan, Sultanpur Shailendra Singh, Deoria Ramawadh Yadav and Faizabad Hirlal Yadav, all from Samajwadi Party were victorious.