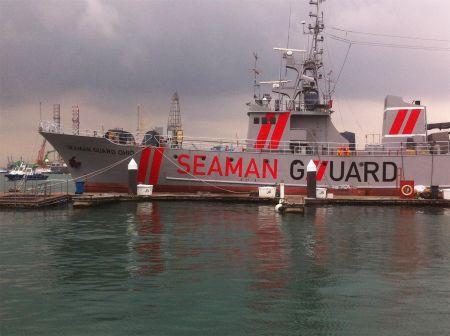 Twenty-two foreign nationals among the 35 arrested crew of detained United States-based private ship were shifted from the Central Prison at Palayamkottai in Tirunelveli to Chennai while a court remanded three others to police custody for seven days, officials said.
The 22 were sent to Chennai Puzhal Central Prison with tight security days after officials from the United Kingdom and Ukraine missions met the crew from their respective countries, lodged in the prison since their arrest on October 18.
Police had arrested all the 35 crewmembers, including 12 Indians, on board M V Seaman Guard Ohio off Tuticorin on the charge of entering Indian waters without authorisation and possessing arms and ammunitions without valid documents.
The remaining ten Indian crew would continue to be lodged in the Palayamkottai prison, officials said.
Prison officials said a senior official from Ukraine embassy in Delhi met three of the crewmembers, including master of the ship Dudnik Valentyn, belonging to his country on Tuesday and discussed about the case filed against them. They also provided counselling to engineer Sidorenko Valeriy, who suffered from depression following his arrest.
In a related development, Tuticorin Judicial Magistrate C Kathiravan allowed a petition by the Q Branch police, investigating the case, seeking seven days custody of two Indians -- Lalit Kumar Gurung, Radhesh Dhar Dwivedi -- and UK national Paul Towers -- for further interrogation.
Though officials maintained that it was normal practice to lodge foreigners in Puzhal prison, sources in Palayamkottai jail said the shifting followed complaints by the crew about "awful conditions" prevailing in the British era jail.
"It is normally the practice to lodge foreign nationals in the Puzhal Prison in Chennai," ADGP and IGP of Prisons J K Tripathy told PTI in Chennai. He said the foreign crew would be lodged in the regular cell. "They will be in the dormitory."