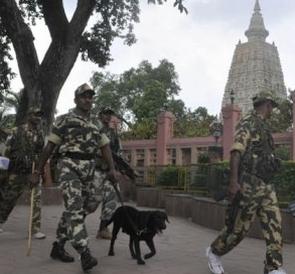 The attack on the Mahabodhi temple is a precursor before Pakistan-based terror outfits launch a major 'war' in support of Myanmar's Rohingya Muslims, reports Vicky Nanjappa.
Back in 2010, when Bodh Gaya was surveyed by a bunch of Indian Mujahideen operatives, the idea was to target religious places.
According to a Research and Analysis Wing officer, Sunday's multiple blasts at the Mahabodhi temple appears to be an operation outsourced to the Indian Mujahideen by the Lashkar-e-Tayiba. "This is just a precursor before the Pakistan-based terror outfit launches a major war in support of the Rohingya Muslims in Myanmar."
A note by the R&AW six months ago to the Indian government states that a front called the Difa-e-Musalman was being set up by the Lashkar to fight in Myanmar. A large number of recruits are being trained for this operation, it said.
Intelligence Bureau officials to said that Bodh Gaya was just a precursor. "When the IM had surveyed the town three years back they were not interested in this cause. However, the Lashkar's new wing Difa-e-Musalman through the Bangladesh-based group Hizbut Tahrir outsourced this operation to the IM. No one has come forward to accept responsibility. However, the message has been conveyed -- there is going to be a major 'war' in Myanmar in favour of the Rohingya Muslims," they added.
American agencies have informed India that Arakan in Myanmar is the training ground for such attacks. The Lashkar has already blamed the Myanmar government for the plight of Muslims. After several rounds of discussion with Pakistan's Inter-Services Intelligence, many terrorist groups were roped in -- Lashkar, Jaish-e-Mohammed, Harkat-ul-Jihadi Islami and the Jamaat-ul-Mujahideen -- to take his 'fight' forward.
The IB has issued several warnings to secure Buddhist-dominated areas in the country. Now, with the IM working at the behest of Pakistan-based terror groups, the situation is even more critical. Intel inputs suggest that operatives are looking to get weapons from Thailand and funds from Saudi Arabia.
Indian agencies are working along with their counterparts in Singapore, the US, Thailand and Bangladesh to contain attacks of this nature.

Image: Security personnel hunt for clues inside the premises of the Mahabodhi temple in Bodh Gaya, Bihar