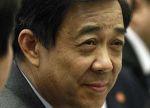 China's intriguing scandal relating to Bo Xilai took a new turn with revelations that Briton Neil Heywood murdered by the expelled Communist Party leader's wife was a spy working for British secret service - MI6.
Heywood, who was closely moving with Bo and various top officials of the Communist Party as UK businessman had been providing information to the British secret service, the Wall Street Journal reported on Tuesday.
The fresh revelations, ahead of the November 8 once-in-a-decade leadership Congress of the ruling Communist Party and trial of Bo, could add more serious charges like compromising with state secrets against the ousted leader.
Bo who was in the running for a top post of the party is awaiting trial for covering up the murder of sex, sleaze and corruption.
Asked for his comments on the allegations, Chinese Foreign Ministry spokesman Hong Lei told the media that "the Chinese judicial authorities had already made a ruling on the case of manslaughter by Gu Kailai and (her assistant) Zhang Xiaojun". "Bo Xilai case will be handled in accordance with party discipline and national law," he said.
While Gu is given a suspended death sentence, Zhang has been given nine years prison term by a Chinese court in September this year.
The WSJ report said Heywood had been communicating with an MI6 officer about Bo for at least a year before he died.
Questions of Heywood's links with M16 came up earlier, but British Foreign Secretary William Hague said he was not a government employee "in any capacity".
In her testimony Gu said she had business deals with Heywood and chose to poison him to death as he threatened the safety of son who was studying in England at that time.
Bo has been expelled from all posts as well as from the party. He was also stripped of Party membership. The Journal investigation, based on interviews with current and ex-British officials and close friends of the murdered Briton, found that a person Heywood met in 2009 later acknowledged being an MI6 officer to him.
"Heywood subsequently met that person regularly in China and continued to provide information on Bo's private affairs," it said. Heywood is married to a Chinese.
His relatives and the UK Foreign Office declined to comment, the paper added.
In a letter to a British MP on April 26, Hague said it was "long established government policy neither to confirm nor deny speculation of this sort" about Heywood.
"However, given the intense interest in this case it is, exceptionally, appropriate... to confirm that Heywood was not an employee of the British government in any capacity," BBC quoted Hague as saying.
Heywood, 41, had lived in China from the early 1990s, where he learned fluent Mandarin.
Gu's involvement in Heywood murder came to light police chief of Chonqing, Wang Lijun fled to the US consulate in February, reportedly after falling out with Bo over the Heywood case. Chinese officials subsequently ordered that an investigation into Heywood's death be reopened.
Police had originally said he died of over-consumption of alcohol. Five senior police officers in Chongqing have also been jailed for covering up the case.
Ahead of the Party Congress, another scandal rocked the party with revelations by the New York Times that the family of outgoing Premier Wen Jiabao accumulated USD 2.7 billion wealth.
Wen family denied it and the Party reportedly launched investigations into the allegation at the instance of Wen.
Earlier
Blooomberg
news agency alleged that the family of Vice-President Xi Jinping, widely tipped to succeed Xi also accumulated heavy wealth.