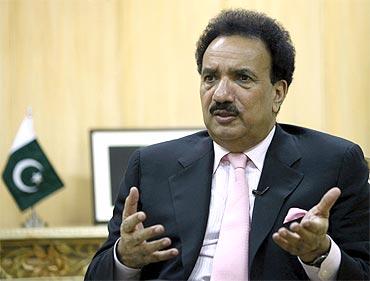 Two weeks after she was flown to the United Kingdom to undergo specialised treatment, Pakistan Interior Minister Rehman Malik along with British and United Arab Emirates foreign ministers on Monday visited the hospital where the teenage rights activist Malala Yousufzai is admitted.
The British foreign ministry said the three ministers had met the father of 15-year-old Malala, who was shot in the head by the Taliban earlier this month as punishment for campaigning for girls' education.
"Visiting the Queen Elizabeth Hospital in Birmingham on Monday to thank the medical team caring for 'Malala and show support to her family," British Foreign Minister William Hague tweeted.
Sheikh Abdullah bin Zayed bin Sultan Al Nahyan, the UAE foreign minister along with the other two visited the hospital, where critically wounded British combat troops are treated.
Malala was flown into the UK from Pakistan in a special air ambulance provided by the UAE royal family. Meanwhile, the Queen Elizabeth Hospital in a statement said Malala spent a restful weekend.
"Malala Yousufzai spent a restful weekend at the Queen Elizabeth Hospital Birmingham surrounded by her family, who arrived in the UK last week.
"She continues to make good progress and is grateful for the 5,000 messages of support that have been posted on the trust's website," the statement said.
Malala was shot in her home town of Mingora in the Swat Valley of Pakistan on October 9 and was flown to Britain two weeks ago for treatment at the Birmingham hospital.