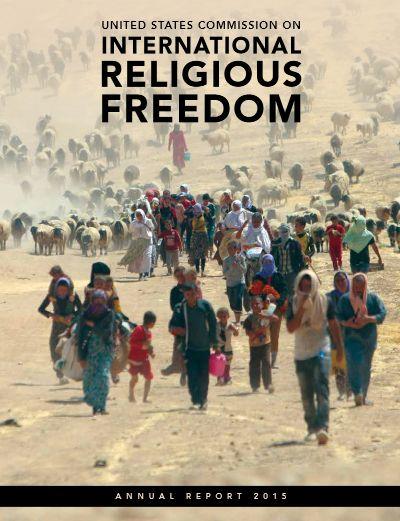 India witnessed religiously motivated killings, arrests, riots and coerced religious conversions and the police in some cases failed to respond effectively to communal violence, according to the US State Department report on International Religious Freedom.
In the India section of the Congressional mandated annual report released by Secretary of State John Kerry, the State Department said that some government officials made discriminatory statements against religious minorities.
"There were reports of religiously motivated killings, arrests, coerced religious conversions, religiously motivated riots and actions restricting the right of individuals to change religious beliefs," said the report.
It said that in some cases, local police failed to respond effectively to communal violence, including attacks against religious minorities, although local officials used broad authorities to deploy police and security forces to control outbreaks of religiously motivated violence.
The local non-governmental organisation Act Now for Harmony and Democracy reported more than 800 religiously-motivated attacks from May through the end of the year 2014.
Citing Minister of State for Food Processing Industries Niranjan Jyoti's remarks at an election rally in Delhi, it said government officials reportedly made discriminatory statements against members of religious minorities.
"After her remarks stirred several days of heated national condemnation and disrupted proceedings of parliament, Prime Minister Narendra Modi said in Parliament that he 'strongly disapproved of the remarks' and 'we should avoid using such language'. Jyoti subsequently expressed regret for her remark," the report said.
The State Department said there is restriction on free expression on basis of religion in India.
Authorities continued to enforce laws designed to protect "religious sentiments" which, according to observers, at times had the effect of limiting free expression related to religion, the report said.
The State Department rued that hundreds of legal cases remained pending from violence during the 1984 anti-Sikh riots and the 2002 Gujarat riots.
The Nanavati-Mehta Commission on the 2002 riots ultimately released its Final Report on November 18. Some NGOs called into question the impartiality of the findings.
Court cases related to the 2008 anti-Christian violence in Odisha continued, resulting in convictions for persons responsible for the public rape of a nun during the riots.
Displaced Kashmiri Hindu Pandits continued to seek redress for crimes committed against them and their houses of worship by Kashmiri insurgents in the 1990s, it said.
The State Department said some human rights NGOs and religious minority groups expressed concern over what they perceived as laws and government practices favouring Hinduism over other faiths, while some Hindu groups expressed concern over laws and government practices that they perceived as favoring minority religious communities.
Some human rights and religious minority groups said state-level "anti-conversion" laws were designed to impede conversion from Hinduism, while not restricting conversion to Hinduism, according to the report.
Police arrested Christians and Muslims for alleged "coerced conversion" of Hindus, the report said, adding that conversion of Hindus to Christianity occasionally resulted in assaults and arrests of Christians.
The report mentioned the arrest of five Christians in Madhya Pradesh in March on charges of "coerced conversion" of Hindus to Christianity after they reportedly showed a movie about Jesus to a gathering of persons in their home.
It also referred to Agra incident, saying that in December Hindu groups Bajrang Dal and Dharma Jagran Samamvay Vibhag announced that they had converted 57 families (approximately 200-250 people) to Hinduism.
Muslims attending the event subsequently stated they were unaware that it was a conversion ceremony, it added.
Noting that there are operative "anti-conversion" laws in 6 of the 29 states: Arunachal Pradesh, Gujarat, Himachal Pradesh, Chhattisgarh, Odisha and Madhya Pradesh, it said authorities describe these laws as measures to protect vulnerable individuals from being induced to change their faith.
For example, the Gujarat law proscribes religious conversions through "allurement, force, or fraud," it added.
It also noted that during September and October last year certain Hindu groups mounted a propaganda campaign accusing Muslims of engaging in a "love jihad," which they claimed involved a coordinated strategy by the Islamic community for Muslim men to marry women from other faiths in order to convert them to Islam.
Citing a case of restricting free expression on basis of religion, the report said, on September 24 police in Rustampura, Gujarat, arrested Mehdi Hasan, a Muslim cleric, on charges of insulting Hindus' religious sentiments.
He was arrested after a member of the Hindu community complained about Hasan's comments during an interview with a Gujarati newspaper. Hasan had reportedly labelled those who honoured the nine-day Hindu festival Navratri as "demonic", it said.
Hasan remained in judicial custody until serving out his sentence on October 2.
"In December Hindu groups, including the VHP, Bajrang Dal, and Hindu Sena, led demonstrations throughout the country against the Bollywood movie PK, due to its 'objectionable' portrayal of Hindu gods and goddesses," the report said.
"Protestors burned posters of the movie, burned effigies of the movie's star, Aamir Khan, smashed windows and ticket booths at theaters, and called for the movie to be banned," the report added.