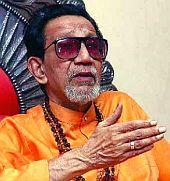 As Bharatiya Janata Party's alliance with Janata Dal-United is put to severe test in Bihar, its oldest friend Shiv Sena on Tuesday sought to remind the party of the importance of partners, saying its whole edifice stood on support of the allies.
"BJP's edifice stands on the support of allies in states and only if this support lasts, so will the 'national ethos'," Sena chief Bal Thackeray said in an editorial in the party mouthpiece Saamana.
"No one can say today whether this coalition will last or break," the Sena patriarch said. Thackeray dubbed as 'phatke' (blow) Bihar Chief Minister Nitish Kumar canceling the dinner for BJP leaders and returning Rs 5 crore that the Gujarat government had sent for Kosi flood relief.
"Such blows are raining everywhere...what to make of them is to be decided by the recipient," Thackeray said.
On likelihood of Lalu Prasad's Rashtriya Janata Dal losing its status as a national party following its poor showing in Jharkhand assembly elections, Thackeray said, "We pray that nothing untoward like this happens (to BJP)."
The editorial also comes in the backdrop of Sena's souring relations with BJP over standing committee chairman's post in Aurangabad municipal corporation.
Alleged Shiv Sainiks had attacked BJP leaders in Aurangabad after the latter's Raju Shinde defied his party's directive to step down as the standing committee chairman to make way for a Sena candidate.
Image: Shiv Sena Bal Thackeray