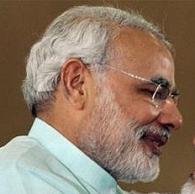 Top Bharatiya Janata Party leaders in Bihar, including Deputy Chief Minister Sushil Kumar Modi and General Secretary Rajiv Pratap Rudy, have been trying to woo members of the Extremely Backward Classes to garner support for Gujarat Chief Minister Narendra Modi as the party's prime ministerial candidate.
"In all likelihood, the next prime minister of the country would come from the EBC," Modi said at a meeting of party workers from these communities.
"I fully endorse the statement of the deputy chief minister and senior party leader Sushil Modi," Rudy said.
A BJP leader admitted that the party was playing the EBC card to gather support for Modi.
"The EBC card will help the party garner support for Modi among EBCs, who are considered the winning factor in Bihar," he said.
Modi also claimed BJP was the only national party which gave the requisite importance to EBCs.
"We will not ignore the sentiments of BJP workers as well as the common man's demand for the PM candidate," said Modi, while workers shouted slogan in support of Narendra Modi as the next PM.
In a veiled message to Bihar Chief Minister and senior Janata Dal - United leader Nitish Kumar, Sushil Modi said that in democratic set-up like India, no one has the right of veto.
The long-standing political equation between ruling coalition partners BJP and JD-U has been downhill since Kumar indirectly attacked Modi -- widely seen as the BJP's prime ministerial candidate -- over his alleged involvement in the 2002 riots.
Sushil Modi made it clear that only BJP will decide the PM candidate of the party-led National Democratic Alliance.
"As far as the PM candidate is concern, BJP will take the final decision," he said.
In an indirect reference to Modi's candidature, Kumar had earlier stated that he will not compromise with the principles of secularism to stay in power, and will prefer to resign instead.