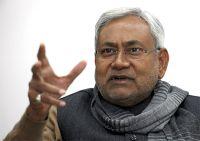 Apparently distancing himself from suggestions that he was targeting Narendra Modi, senior Janata Dal-United leader and Bihar Chief Minister Nitish Kumar on Tuesday said his comment made at the recent party conclave that triggered a controversy was not against anybody.
"I had also praised former Prime Minister Atal Bihari Vajpayee for the successful run of NDA coalition. How can it (the comment) be construed as comment against somebody," Kumar said, addressing a programme on the birth anniversary of Veer Kunwar Singh in Patna.
While speaking at the conclave, Kumar had said, "Nobody should think that the country can be run by force....Sometimes you will have to wear a cap, sometimes you will have to sport a 'tilak'. This country is like this."
This comment was thought to be a reference to Gujarat Chief Minister Narendra Modi's refusal to put on a skull cap given by a Muslim cleric in Gujarat in September 2011.
Kumar's antipathy towards Modi due to 2002 Gujarat riots is an open secret. It was because of him that BJP did not bring Modi to campaign for the party either in 2009 general elections or 2010 assembly polls.
"It is not important how big a party is, but the ideas it holds significant is," Kumar said apparently aiming at a section of BJP leaders who reacted against his comments.
The JD-U leaders assertions at the conclave was taken strongly by BJP as an attack on Modi, considered a potential candidate for the prime minister's post from the party.
BJP leaders mainly from Bihar, including Deputy Chief Minister Sushil Kumar Modi, an architect of NDA alliance in Bihar along with Kumar, had expressed protest over it.
The war of words from leaders of the two old allies has triggered speculation if the coalition would remain till the 2014 general elections.