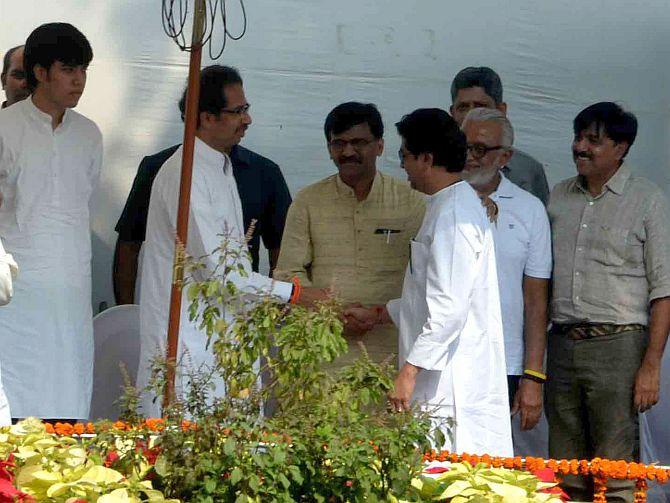 Image: Maharashtra Navnirman Sena chief Raj Thackeray greets Shiv Sena chief Uddhav Thackeray at the memorial of late Shiv Sena chief Bal Thackeray. Photographs: Sahil Salvi
---
Shiv Sena founder Bal Thackeray's 2nd death anniversary on Monday saw BJP reaching out to Sena with a promise to construct a memorial befitting the leader's stature as it brought together the squabbling claimants to his legacy-son and successor Uddhav and nephew Raj of MNS.
After initial reports that only a state minister will pay tributes at the makeshift memorial of Thackeray at Shivaji Park, Chief Minister Devendra Fadnavis reached the venue with several of his cabinet colleagues in tow.
Fadnavis, while effusively praising Thackeray, one of the architects of the saffron alliance that lasted 25 years before coming apart ahead of the Assembly poll, announced setting up a committee to go into the issue of construction of a memorial, a long-standing demand of the Sena.
"Bal Thackeray was like a father figure to us. We have gained a lot from his blessings. There can be no person like him in Maharashtra," he told reporters.
Image: Shiv Sena chief Uddhav Thackeray accompanied by his wife Rashmi Thackeray and senior party leader Manohar Joshi pay homage to Bal Thackeray on his second death anniversary at Shivaji Park, Dadar. Photographs: Sahil Salvi
---
Fadnavis had on Sunday said the door for talks with Sena had not been closed. "The doors for talks with Sena are not closed. In politics such a thing never happens. Talks are possible," he had said in Nagpur.
He said a committee under the Chief Secretary will be constituted to discuss construction of a memorial "suitable to Thackeray's status". Uddhav Thackeray and leaders of other political parties will be on the panel.
Fadnavis had won a controversial confidence vote last Wednesday after NCP declared outside support to his minority government. As the confidence motion was passed by a voice vote, there was an uproar by Sena and Congress, with the two parties petitioning Governor C Vidyasar Rao to direct the government to seek a fresh vote in which its strength be determined through a division of votes.
NCP Legislature Party leader and former Deputy Chief Minister Ajit Pawar too disapproved of the manner in which the motion was passed by voice vote. NCP chief Sharad Pawar had earlier said he cannot guarantee the survival of the BJP government for its full five-year term.
After comments from the Pawars, there have been talks of the possibility of BJP and Sena coming together to form a stable government but no clear signals from the two parties have come yet.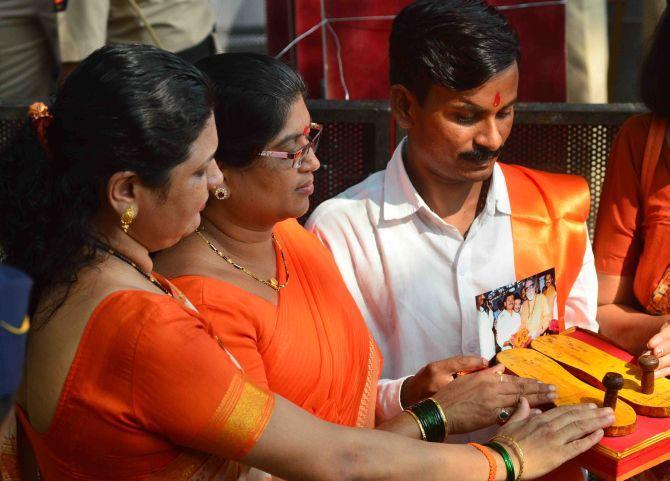 Image: Shiv Sena supporters pay tribute to Bal Thackeray on his second death anniversary in Mumbai. Photographs: Sahil Salvi
Prime Minister Narendra Modi too appeared to reach out to Shiv Sena when he took to microblogging website Twitter to pay tributes to Thackeray and "salute the great man".
Modi, who is in Australia, tweeted: "On Pujya Balasaheb Thackeray's Punya Tithi, I salute the great man who always lived for the people & stood for their well-being."
"The life of Pujya Balasaheb Thackeray continues to inspire us. He lives in the hearts of millions," Modi, whom Thackeray had solidly backed amid vociferous demands for his resignation as Chief Minister in the aftermath of post-Godhra riots in Gujarat, tweeted.
Amid the continuing confusion over a reconciliation between BJP and Sena, MNS leader Raj Thackeray shared the stage with Uddhav after a long time with their body language setting off speculation about a detente.
The bonhomie was evident when a smiling Raj walked up to the dais and shook hands with Uddhav, his younger son Tejas and Sena MP and spokesman Sanjay Raut. The MNS leader was motioned by senior Sena leader Ramdas Kadam to a vacant chair between Uddhav and Raut which he occupied.
The two leaders were seen chatting and laughing in public after a long time before Raj exited the venue with other MNS leaders in tow. He was also seen chatting with several women Shiv Sena leaders including city Mayor Snehal Ambekar.
The bonhomie between the two cousins, who had been sparring ever since Raj walked out of the family home and floated Maharashtra Navnirman Sena in 2006, comes in the backdrop of their political isolation in Maharashtra.
Contesting Lok Sabha and state Assembly elections for the first time in the absence of Bal Thackeray, Uddhav led Sena to plausible performances in both. The party won 18 of state's 48 seats in alliance with BJP in LS poll, while it secured 63 of 288 seats in Assembly election after the split to emerge as the second largest party in the House.
Though Sena performed reasonably well in the Assembly poll, it is now friendless in Maharashtra politics and needs to fortify its position with the help of other parties.
Raj Thackeray, whose MNS had 13 MLAs in the previous House, was badly mauled in both Lok Sabha and Assembly elections. It could not open its account in LS poll, while in Assembly election it could manage to win just one seat.
Raj had publicly admitted he had sought an alliance with Shiv Sena after its bitter split with BJP "but there was no response from the other side".
His presence at Bal Thackeray's death anniversary event is being seen as another attempt by him to warm up to the estranged cousin, whose party is now occupying the main opposition's space after splitting with BJP.
Senior MNS leader Bala Nandgaonkar, who accompanied Raj to the event, said that it was the wish of every Shiv Sainik and MNS worker that the two cousins reunite.
"This is a very sad day for us. It is difficult to cope with the absence of Balasaheb. But, if the two decide to become one force this day, it will turn out to be a memorable day for all of us.
"It is the wish of not only every citizen of our state, but also of every Shiv Sainik and MNS worker. Both should join hands and fight for the welfare of the state as a single force," Nandgaonkar told reporters.