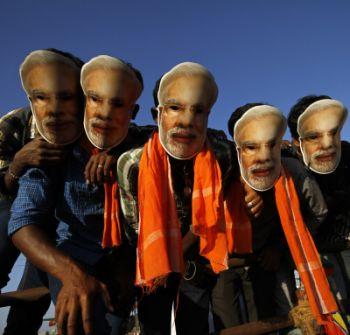 The Bharatiya Janata Party is likely to emerge as the single largest party in the upcoming Lok Sabha polls with 217 seats while Congress will be reduced to about 73 seats, an opinion poll has predicted.
According to the survey conducted by ABP News-Nielsen, BJP would get 217 seats and National Democratic Alliance is likely to get 236 seats.
Interestingly, it points out that NDA has gained 10 seats more as compared to the opinion poll conducted in January this year.
Congress, which came out with flying colours in the last general elections, would be confined to 73 seats, while the fledging Aam Aadmi Party is likely to get around 10 seats in the Lok Sabha polls, the opinion poll predicted.
It (Congress) is expected to fare better only in the south even as AAP, a debutante in Lok Sabha polls, is likely win seats in north India.
As far as the choice of prime ministerial candidate was concerned, Modi, backed by over 57 per cent respondents, appears to be leading when compared with Congress vice president Rahul Gandhi, who has scored 18 per cent.
Former Delhi Chief Minister and AAP leader Arvind Kejriwal was preferred by just 3 per cent respondents, the opinion poll said.
The opinion poll conducted between February 4 and 15 further predicts that the federal front would beat the UPA with around 186 seats.
The All India Trinamool Congress would secure 29 seats, followed by All India Anna Dravida Munnetra Kazhagam with 19 and Biju Janata Dal is expected to win on 16 seats, it claimed.
Respondents have identified inflation as a major issue, which affects people the most in their day to day life.
Corruption has been the second biggest problem, noticed by 34 per cent respondents and 18 per cent feel unemployment a major problem.
Image: Supporters of Narendra Modi cheer for their leader during his rally in Chennai
Photograph: Babu/Reuters