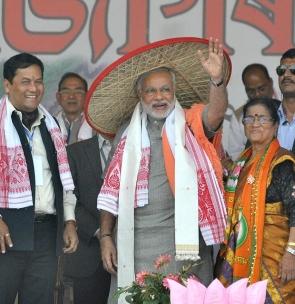 Bharatiya Janata Party's prime ministerial candidate Narendra Modi on Saturday denounced China's 'expansionist attitude' over the neighbour's claim on Arunachal Pradesh and said that the security of the border state, surrounded by foreign countries on three sides, should be of prime concern to the central government.
Addressing a massive public rally at Pasighat in Arunachal Pradesh, Modi said, "Times have changed. An expansionist attitude is no longer considered as a reflection of power. China will have to do away with its expansionist attitude".
"The BJP is committed to bringing about changes in the country through its development agenda, not by promoting dynastic rule or communal governance. I promise to take a cue from the ambitious development agenda of the previous NDA (National Democratic Alliance) regime led by Atal Bihari Vajpayee to trigger rapid development of the northeastern states so that jobs are created, education and infrastructure facilities are made available for the youth of the region who are vulnerable to drug menace, insurgency and other evils because of underdevelopment," Modi said.
.
Referring to the chief ministers' conference held in Delhi in 2012, the Gujarat CM said, "During the conference, your chief minister, who is from the Congress, expressed his utter anguish over the failure of the Congress-led UPA (United Progressive Alliance) government in New Delhi to expedite the development process in Arunachal Pradesh. If the chief minister of your state doesn't have confidence his own party's government in New Delhi, how can you expect that government to be responsive to your need? You need a government at the Centre which will listen to you. You have to decide your government of choice in New Delhi in the 2014 elections."
Playing to the gallery, Modi also promised to tap the hydropower potential of the state to power the entire country by setting up environment-friendly hydel power projects, instead of mega projects.
The BJP's PM candidate also promised to make the picturesque state a 'paradise for botanists' and an 'environment capital'.
He identified '3Hs' -- herbal medicines, horticulture and handicraft -- to trigger the economic development of the people of Arunachal Pradesh.
"These 3Hs can provide employment and livelihood options to everybody in Arunachal Pradesh. We can set up many factories of herbal medicines in Arunachal Pradesh as has been done by China on the other side of the frontier by tapping the immense potential of the Himalayas," Modi said.
He even claimed that given its immense tourism potential, Arunachal Pradesh could be at par with Switzerland in terms of attracting global tourists.
Modi also expressed his agony over the recent death of Arunachali student Nido Taniam in New Delhi, saying, "He is the son of not only Arunachal Pradesh but also of India. The government in New Delhi must take care of the safety of the people from the northeast who are living in other parts of the country."