Ruling Bharatiya Janata Party on Monday emerged as a major gainer in the first phase of municipal council polls in Maharashtra, winning 851 seats across 164 urban local bodies, making inroads into the traditional strongholds of Congress and the Nationalist Congress Party.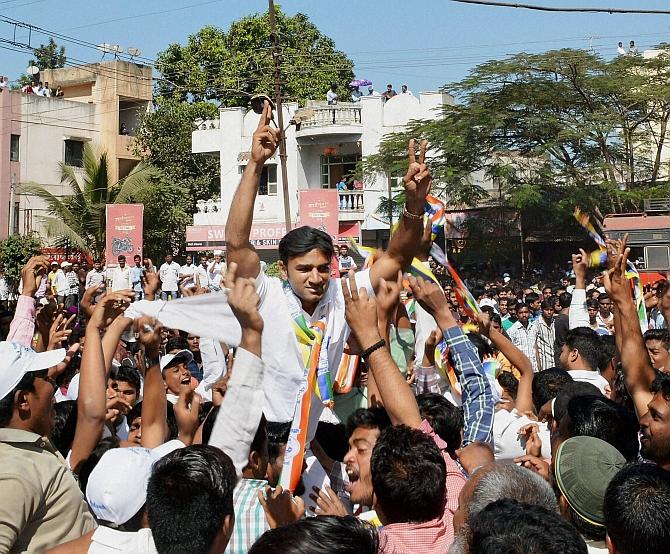 Elections were held for 3,705 seats spread over the 147 municipal councils and 17 nagar panchayats, of which results have been announced for the 3,510 seats so far. Counting for rest of the seats was still on.
Of the 147 municipal councils, where municipal chiefs were elected directly, BJP nominees won at 52 places, compared to the around half a dozen places, where that party held the civic chief's posts in these bodies.
BJP made inroads into the Congress and NCP strongholds, winning 851 seats. Shiv Sena won 514, NCP 638, Congress 643, MNS 16, BSP 9, unrecognised parties 119, local coalitions 384, CPM 12 and Independents 324 seats.
In the last elections, BJP tally was 298, Sena 264, Congress 771 and NCP 916.
As results started pouring in BJP's favour, Prime Minister Narendra Modi termed the victory as a "win for pro-poor and development politics of BJP."
In the polling held on Sunday across 25 districts, around 70 per cent of the electorate had exercised their franchise.
The elections, held against the backdrop of demonetisation, were seen as 'mini' assembly polls and a test of popularity of Chief Minister Devendra Fadnavis, who led the BJP's campaign to extend his party's influence in the rural areas, where Congress and NCP has held sway for long.
Taking note of BJP's performance, Prime Minister Narendra Modi lauded Fadnavis and Maharashtra BJP president Raosaheb Danve for the "grassroot level work".
"I laud BJP Karyakartas, CM @Dev_Fadnavis & @raosahebdanve. Their grassroot level work ensured people place their valued trust in BJP," Modi said.
"I thank people of Maharashtra for placing their faith in BJP in local body polls. This is a win for pro-poor & development politics of BJP," the PM tweeted.
Talking about the party's performance, Fadnavis said, "We won due to the blessings of Chhatrapati Shivaji and the people of Maharashtra."
Hailing the mandate for the BJP, he said it shows that people are with Prime Minister Narendra Modi's vision of transparency.
In response to Modi's tweet on the poll outcome, Fadnavis tweeted, "Thanks Sir! You inspired confidence in people that our Nation is transforming. Mandate shows
Maharashtra is with your vision of transparency."
The CM added that he was satisfied that people were trusting him to solve problems and challenges facing the state. He thanked the BJP leaders and ministers for working unitedly.
Reacting to the results, Maharashtra Congress chief Ashok Chavan conceded that his party need to work harder, whereas NCP spokesperson Nawab Malik alleged that BJP won due to money and the fact that it was in power.
"We need to work harder and rework our strategy in the upcoming phases. BJP's money power helped them win more seats. This is not the only reason for their success. We also need to work hard," Chavan told reporters.
In Parli municipal council in Beed district, Women and Child Development Minister Pankaja Munde of the BJP was outsmarted by her cousin and NCP leader Dhananjay Munde.
The panel backed by Dhananjay, who is the Leader of Opposition in Legislative Council, won 27 of the total 33 seats in Parli.
"I accept the people's verdict. I will analyse what went wrong and what led people to give this verdict," Pankaja said.
State Revenue minister Chandrakant Patil said, "BJP is expected to bag 50 municipal council president posts, while in another 50 councils the party will increase its tally considerably."
Terming the party's performance as "overwhelming", he said five years ago BJP was negligible in these areas and the outcome showed that people have accepted the demonetisation decision.
Responding to a query, senior Congress leader Narayan Rane's criticism that sycophancy and not merit was the priority for selection of party candidates, Chavan said it was Rane's personal view.
"Rane is a member of the state parliamentary board, which selects candidates. If he says posts are sold, he is making a grave allegation and must substantiate it. I will take action," the former chief minister added.
The comments made by senior party leaders from Ahmednagar district Balasaheb Thorat and Radhakrishna Vikhe Patil blaming each other for the results were also unwarranted, Chavan said adding, "Making such allegations and counter-allegations publicly was wrong."
As to Rane's demand that Congress and NCP should fight the polls in alliance, Chavan said the decision on alliance was left to district units and Rane was part of this decision made at the state level. If this decision has to be reconsidered it will be discussed at the party level, he said.
NCP leader Nawab Malik said, "BJP won due to money and the fact that it was in power. However, it will bear the brunt of demonetisation in the next phase."
"BJP leaders Raosaheb Danve, Pankaja Munde and Babanrao Lonikar could not get their candidates elected," Malik pointed out.
In all, 212 civic bodies, comprising municipal councils and nagar panchayats, are going to polls in four phases. The next rounds of voting are scheduled on December
14, December 18, and January 8.
Image: An NCP candidate celebrates his win along with supporters in the Municipal Council Election in Karad, Maharashtra on Monday. Photograph: PTI Photo