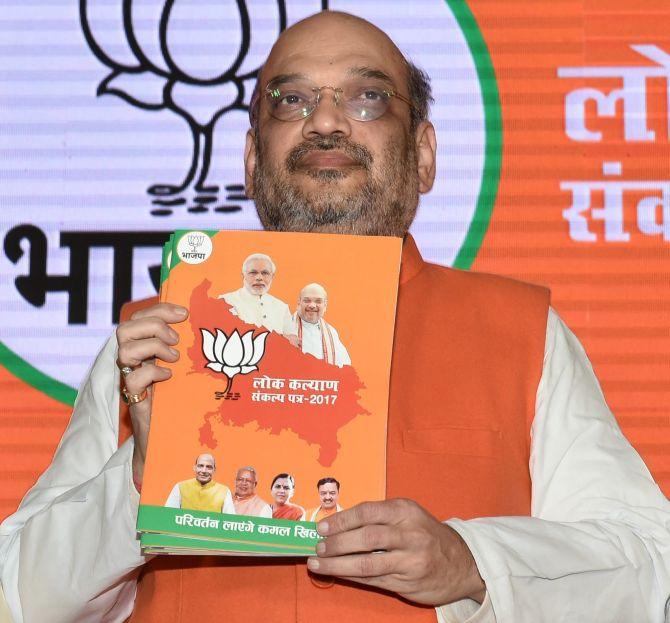 Bharatiya Janata Party president Amit Shah on Saturday released the party's manifesto for Uttar Pradesh assembly elections promising to make efforts to ensure construction of Ram temple under constitutional provisions if voted to power.
The manifesto, called 'Lok Kalyan Sankalp Patra' (Pledge for People's Welfare), also promises to press for taking forward its view on the triple talaq in the Supreme Court.
"The party is firm on the Ram temple issue... efforts will be made to ensure that Ram temple is constructed under the constitutional provisions," Shah said.
On the contentious issue of triple talaq, Shah said the party, on coming to power, will take views of women and present its opinion before the Supreme Court.
On exodus of people due to communal tension, he said a special team would be formed to check it at district level. DMs will be held responsible for mass exodus, he said.
Shah also said all mechanised slaughter houses will be closed in the state.
Taking a cue from ruling Samajwadi Party, Shah promised to upgrade the dial 100 of the state police to ensure police help in 15 minutes all over the state.
Stressing that if voted to power, his party will take one step ahead of the Samajwadi Party's laptop distribution scheme by providing 1 GB free data for one year besides free Wi-Fi in universities.
To ensure the safety of college girls, innovative anti-Romeo squads will be set up near colleges to check eve teasing. Besides, three women battalions will be raised for security of women, the document said.
While releasing the manifesto, the BJP president said the party will form government in Uttar Pradesh with a two-thirds majority.
He attacked the Samajwadi Party and Mayawati's Bahujan Samaj Party which have ruled Uttar Pradesh for the last 15 years, accusing them of doing nothing to develop the backward state.
BJP, he said, under the leadership of Prime Minister Narendra Modi, would turn UP into a developed state, the way it has developed the other states it rules.
"All BIMARU -- Bihar, Madhya Pradesh, Rajasthan and Uttar Pradesh -- states have become developed except UP," he soid.
BJP is going hammer and tongs to return to power in UP after 15 years.
In 2012, it had won only 47 of the state's 403 seats, but in the 2014 national election, it swept 71 of the state's 80 Lok Sabha seats and hopes to repeat that performance in this year's assembly election.
Elections in Uttar Pradesh will be held in seven phases from February 11 to March 8.
Accusing the Akhilesh Yadav government of not doing anything for the upliftment of the state, he said the Centre sanctioned Rs one lakh crore to Uttar Pradesh but no development has been seen on ground.
Besides, law and order is at its nadir, he claimed, adding that Akhilesh will have to answer for the problems faced by the state where "ruling party goondas have grabbed
land".
He said people will not be hoodwinked by merely entering into an alliance with Congress to win the polls.
"UP has been plundered by SP-BSP for 15 years and we have come with a pledge to transform the state," he said.
Before unveiling the document, Shah said, "We have tried to take views and aspirations of a cross section of people and in the process contacted people through different means (before drafting the manifesto)."
The document focuses on farmers' welfare, he said, adding agricultural loans will be waived once BJP comes to power.
He also said a Special Task Force to be set up to put an end to illegal mining in the state.
Shah said on lines of central government's decision, no interview will be held for Class III and IV UP government jobs to end corruption in recruitment if BJP comes to power.
The manifesto promised free education up to Class 12 and waiver of fees up to graduation level to meritorious students.
Shah said food processing parks would be set up in UP and power would be supplied round the clock in the state with cheaper rates for the poor.
"We will provide laptops to all students without any discrimination," he said.
Shah also said special focus would be given to Bundelkhand for its all round development.
He expressed hope that UP would get the strongest government since Independence when BJP gets over 300 (of the 403) seats.
Since the past 15 years it has been SP-BSP governments in the state and in this period several states which were behind Uttar Pradesh have improved but UP was still lagging behind, he claimed.
Other states like Rajasthan, Madhya Pradesh and Chattisgarh have been pulled out of the Bimaru states list after BJP got a chance, he said.
"I want to assure people here that given a chance BJP will pull it out of the list in five years," he said.

"After 30 years, it is for the first time any party has got absolute majority at the Centre and I want to thank the people of UP for it...BJP workers have been blessed by the people and now want to do something for the state, he said.
"Till we do not have a government in Lucknow not much can be done about issues concerning everyday life like law and order, power, health among others.
"Every year, our government has given Rs one lakh crore more than the United Progressive Alliance government and I want to ask Akihlesh ji where has it gone, why the situation has not imporved here... he will have to give a reply, merely (entering into an alliance) will not hoodwink the people," he said.
"UP's law and order is worst in the country, in villages ruling party goondas have grabbed land... women are not safe,mining and road mafia are active in the state," he said.
On the issue of exodus FIRs are not filed in police stations.
"After note ban, these elections are being held and we have faith that the kind of war BJP and PM have launched against black money, UP will show us the results," he said.
"We have not indulged in politics of caste, religion or family, and politics of performance is going to start in the state," he said.