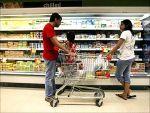 Bharatiya Janata Party parliamentary board will finalise its strategy for opposing Foregin Direct Investment in retail in the coming winter session of Parliament at a meeting on November 20.
"The BJP parliamentary board will meet on November 20 under the chairmanship of L K Advani in Delhi to fine-tune its strategy as to how to derail FDI in retail in Parliament during its winter session," party senior leader M Venkaiah Naidu told reporters.
It will hold consultations with the National Democratic Alliance allies and other political parties opposed to FDI in retail to compel the United Progressive Alliance government to withdraw its decision to allow multi-national companies set up shops in the retail sector in the country, he said.
Asked about BJP's stand on the notice served by the Left parties to seek discussion on the issue in Parliament under Rule 184 which entails voting, Naidu said his party did advocate such action but would take decision at an appropriate time.
BJP, he said, was for taking all political parties along with it in Parliament on the FDI issue and ensure that voting was made mandatory during debate on the issue under relevant rules of the House.
Claiming that all mainstream political parties, barring Congress were opposed to FDI in retail which would cause about five crore traders to be unemployed, he said the UPA government is a minority government and "as such has no right to take important decisions having wide ramifications for the country and its people."
"In any case the UPA government has been reduced to minority after Trinamool Congress withdrew support to it on the FDI issue and must pass the litmus test in Parliament on it," he said.
Naidu charged UPA government with unilaterally deciding on FDI in retail and not consulting its allies.
He also accused the Centre of going back on its commitment to take Parliament and other stakeholders into confidence before going ahead with its decision on FDI in retail as said on the floor of the House by the then Union Finance Minister Pranab Mukherjee and Minister Kamalnath.
"The Congress must respond as to why it betrayed the assurance given to Parliament and other stakeholders to take them on board in building a consensus before taking decision on allowing FDI in retail," he asked.
Naidu, who is a former BJP president, accused Congress of turning a somersault on the FDI issue by advocating the policy decision while in power and opposing it when in opposition.
"Congress had described FDI in retail as 'anti-national' when the erstwhile BJP-led NDA had mooted it during its rule," he said and wondered how the same had become necessary in the national interest now.
Naidu alleged that the UPA government gave in under pressure from the United States and other western powers to allow FDI in retail after the western media castigated it for policy paralysis afflicting India.
FDI in retail was among a slew of measures that the UPA government took to deflect public attention from scams like 2G and coal blocks allotment, he said, adding "The government came up with the reform when the people wanted it to perform."